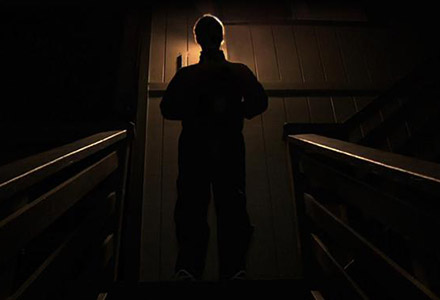 Creep
USA | 2014 | 80 minutes | Patrick Brice
In this chilling found-footage horror comedy, struggling videographer Aaron (writer-director Patrick Brice) heads to a remote mountain town to film one day in the life of a terminally ill man (Mark Duplass), only to encounter some nasty surprises. Actor Mark Duplass in attendance!
The Dalai Lama XIV said, "Know the rules well, so you can break them effectively." Producer Jason Blum, who ruled the mainstream found-footage horror genre with his Paranormal Activity franchise, adds ballast to a sometimes-creaky haunted house in Creep, his new project with multi-hyphenate indie star Mark Duplass (Cyrus, Safety Not Guaranteed, "The League"). Here Duplass is co-producer and plays the titular weirdo, where writer-director Patrick Brice, in his debut feature, plays a videographer on a spectacularly bizarre assignment. The broke freelancer answers an online ad offering $1,000 to film the last testament of dying eccentric Josef. Aaron journeys to Josef's family cabin in Northern California to help the man make a video diary for his unborn son, but when the first chapter Josef proposes is called 'Tubby Time'—a pantomime of him bathing the baby—Aaron realizes he's met a man with more damage than disease. As the unnerving day of over-sharing continues, including a trip to a heart-shaped spring in the woods that Josef says has restorative properties, Aaron finds that he is in for some nasty surprises. Brice and Duplass acknowledge the influence of Bruce Joel Rubin's 1993 tearjerker My Life, but Creep takes a decidedly non-warm-and-fuzzy detour on the subject of mortality.
Director Biography
Patrick Brice graduated from the California Institute of the Arts with a BFA in film, where his thesis Maurice, a short about a man who owns a porno theater in Paris, went on to win the Grand Jury Prize for Best Documentary at the Florida Film Festival. Creep is Brice's first feature-length film.
Director:
Patrick Brice
Principal Cast:
Mark Duplass, Patrick Brice
Country:
USA
Year:
2014
Running Time:
80 minutes
Producer:
Mark Duplass, Jason Blum
Screenplay:
Patrick Brice, Mark Duplass
Editors:
Christopher Donlon
Music:
Eric Kuhn, Kyle Field, Sonny Smith
Filmography:
Debut Feature Film
Language:
English
Format:
DCP
Show All