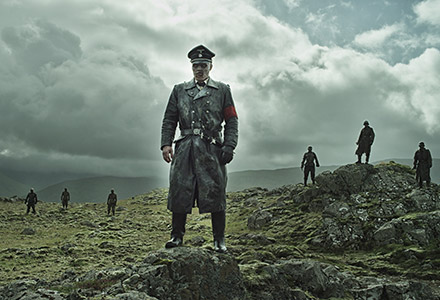 Dead Snow: Red vs. Dead
Død Snø 2
Norway | 2014 | 100 minutes | Tommy Wirkola
When seven students take a vacation in the snowy mountains of Norway, the last thing they expect is to be confronted by the living dead. This horror-comedy splatter film sequel is exploding with zombie Nazis, gore, sex, and Molotov cocktails.
Colonel Herzog and his band of Nazi zombies return in Tommy Wirkola's sequel to his hit horror comedy Dead Snow. Martin is the sole survivor from the previous film's bloodbath. Despite having lost his arm, he makes it to a hospital believing that the zombies are once again in their cold, frostbitten graves. Alas, Martin is very much mistaken. Fortunately for Martin, the doctor is able to reattach his arm; unfortunately, the arm actually belongs to the Nazi colonel. It's not long before the arm stages a revolt against its new owner, maiming all whom cross its path. Meanwhile, Herzog and his zombie troops march upon an unsuspecting Nordic town in order to fulfill their last orders. Now only Martin, three American film nerds, and a few ragtag zombie companions of their own can possibly stop Herzog's undead troops. Picking up immediately in the wake of its predecessor, Dead Snow: Red Vs Dead plunges audiences right into Wirkola's unique blend of gore-filled action splattered with wry laughs and bloody entrails.
Director Biography
Tommy Wirkola is a Norwegian film director, producer and screenwriter of Finnish Sami heritage. Wirkola's first film was 2007's Kill Buljo that he co-wrote with Stig Frode Henriksen. They later made the 2009 horror comedy Dead Snow, and then in 2010 Kurt Josef Wagle and the Legend of the Fjord Witch. His first big-budget film was Hansel and Gretel: Witch Hunters, which was co-written by Dante Harper and released in 2013.
Sponsored by Scarecrow Video
Director:
Tommy Wirkola
Principal Cast:
Vegar Hoel, Stig Frode Henriksen, Martin Starr, Ørjan Gamst, Ingrid Haas
Country:
Norway
Year:
2014
Running Time:
100 minutes
Producer:
Kjetil Omberg, Terje Strømstad
Screenplay:
Vegar Hoel, Tommy Wirkola, Stig Frode Henriksen
Cinematographers:
Matthew Weston
Editors:
Martin Stoltz
Music:
Christian Wibe
Website:
Official Film Website
Filmography:
Hansel & Gretel: Witch Hunters (2013); Kurt Josef Wagle and the Legend of the Fjord Witch (2010); Dead Snow (2009); Kill Buljo - The Movie (2007)
Language:
Norwegian
HasSubTitles:
Yes
Format:
DCP
US Distributor:
Well Go USA
International Sales:
Tappeluft Pictures
Show All