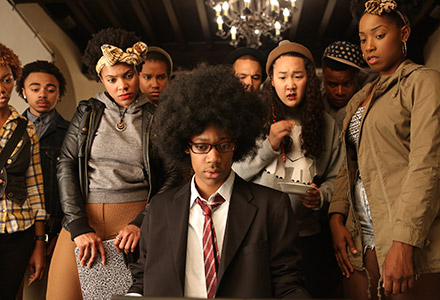 Dear White People
2014 Youth Jury Award Prize for Best FutureWave Feature: Grand Jury Prize
2014 Youth Jury Award Prize for Best FutureWave Feature: Grand Jury Prize
USA | 2014 | 108 minutes | Justin Simien
A witty and whip-smart satire about being a black face in a (mostly) white place, Dear White People centers on biracial campus DJ and resident advisor Samantha and her fellow African-American students at the prestigious Winchester University.
Schedule
June 5, 2014
xHarvard Exit  
7:00 PM
Date has passed

Director Justin Simien scheduled to attend

June 7, 2014
AMC Pacific Place 11  
3:30 PM
Date has passed

Director Justin Simien scheduled to attend

Show All
Thursday June 5 and Saturday June 7 screenings on STANDBY – Advance tickets not available
"Dear white people. The amount of black friends required not to seem racist has just been raised by two." So announces Samantha White, a biracial college student and residential advisor, at the opening of her incendiary radio show. Much more than just a space for decrees about relations, Justin Simien's witty and whip-smart satire follows a variety of characters in a fictional, predominantly white Ivy League university dealing with a non-stop assault of topical cultural issues. Samantha and the fellow members of her all-black residence hall prefer to keep their lives insular within their culture, but rivalries and campus tensions reach a boiling point when a race-themed Halloween party sponsored by a white residence hall is held. Samantha and the rest of the African-American students at Winchester must reevaluate their engagement and decide where they really stand with and against their white peers. Full of colorful characters and genuinely absurd cultural situations, Dear White People gives permission to laugh while seriously challenging many of our racial inequalities and societal challenges. Much more than just a School Daze for the Obama generation, Simien has succeeded in exposing the stereotypes across our melting pot in a way that will resonate for years to come.
Director Biography
Justin Simien is a Texas-born filmmaker based out of Los Angeles, California, whose influences include Spike Lee, Robert Townsend, and John Singleton. Dear White People is his first feature-length film, following the shorts Rings (2006), My Women: Inst Msgs (2009), and Inst Msgs (Instant Messages) (2009).
Director:
Justin Simien
Principal Cast:
Tyler Williams, Tessa Thompson, Teyonah Parris, Brandon Bell
Country:
USA
Year:
2014
Running Time:
108 minutes
Producer:
Lena Waithe, Ann Le, Angel Lopez, Effie T. Brown, Julia Lebedev, Justin Simien
Screenplay:
Justin Simien
Cinematographers:
Topher Osborn
Editors:
Phillip Bartell
Website:
Official Film Website
Awards:
Sundance Film Festival 2014 (Special Jury Prize)
Filmography:
Debut Feature Film
Language:
English
Format:
DCP
US Distributor:
Roadside Attractions
Show All