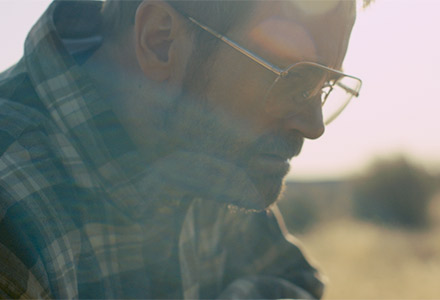 Desert Cathedral
USA | 2014 | 90 minutes | Travis Gutiérrez Senger
Set in 1992 and based on true events, a real estate agent suddenly and mysteriously disappears into the Southwestern desert. With nothing but the strange VHS tapes he leaves behind, his wife must hire a private investigator to find out what has happened to her husband.
In today's age of social media and surveillance drones, it's difficult for a person to drop off the grid. But 20 years ago, before the internet and cellphone coverage, vanishing from society was a relatively simple act—one that was tried by real-life Seattle real-estate developer Peter Collins. In 1992, facing massive debt from a bad housing deal, Peter ran off to the open spaces of the desert Southwest, leaving behind a series of cryptic VHS tapes in an attempt to explain his disappearance. In this dramatization and expansion of the real story, Peter, played by Lee Tergesen, makes a video diary that he sends back to his family. After getting nowhere with the police, his distraught wife Annah (Petra Wright) hires private investigator Duran (Chaske Spencer), to track him down. After locating Peter, Duran poses as a friendly local in an attempt to understand Peter's state of mind—a tactic that leads to tragedy. Desert Cathedral has been called a "hybrid film" for its blend of stunning cinematography—with the Dry Falls region of Central Washington standing in for the Nevada desert—plus actual footage from Peter's tapes and Collins family home movies. The effect created by director Travis Gutiérrez Senger feels like a documentary but conveys the drama and emotional impact of a fictional narrative about identity, escape, and the relationship between man and nature.
Director Biography
Travis Gutiérrez Senger is a University of Washington graduate and New York-based writer and director known for his documentaries and music videos. Senger's short doc White Lines and the Fever: The Death of DJ Junebug (2010) won the Grand Jury Prize at the Tribeca Film Festival and a Special Jury Prize at South by Southwest Film Festival. Desert Cathedral is his debut feature.
Sponsored by 4Culture, Seattle Office of Arts & Culture, Washington State Arts Commission, National Endowment for the Arts, Black Rapid Media, CityArts, Shoreline Community College
Director:
Travis Gutiérrez Senger
Principal Cast:
Lee Tergesen, Chaske Spencer, Petra Wright, Tony Doupe, Russell Hodgkinson, Aron Michael Thompson
Premier Status:
World Premiere
Country:
USA
Year:
2014
Running Time:
90 minutes
Producer:
Michael J. Mouncer, Chip Hourihan, Travis Gutiérrez Senger
Screenplay:
Travis Gutiérrez Senger
Cinematographers:
Michael Ragen
Editors:
Marc Vives, Oriana Soddu
Music:
Daniel Bensi, Saunder Jurriaans
Website:
Official Film Website
Filmography:
Debut Feature Film
Language:
English
Format:
DCP
Show All