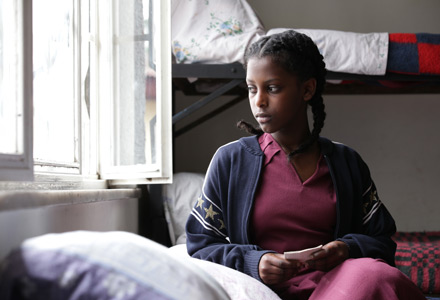 Difret
Ethiopia | 2014 | 99 minutes | Zeresenay Berhane Mehari
From Executive Producer Angelina Jolie comes this captivating film based on the extraordinary true story of 14-year-old Aberash. After being kidnapped, she kills her attacker. Her act of self-defense pits Aberash and her tenacious lawyer against Ethiopia's long-standing tradition of marriage by abduction. Director Zeresenay Mehari in attendance.
Winner of Audience Awards at both Sundance and Berlin, Ethiopian-born writer-director Zeresenay Berhane Mehari's exceptional Difret confronts one of Ethiopia's oldest traditions-the practice of marriage abduction. The film is based on the true story of Hirut, a rural 14-year-old girl who is kidnapped by men on horseback and expected to marry the leader. Instead, she attempts escape and, with a stolen rifle, shoots her captor dead. Hearing about the crime, Meaza, a young lawyer and a fierce advocate for women, comes to the aid of Hirut by proposing a self-defense argument. This unprecedented action is in bold defiance of customary law, and risks the women's aid organization in which she is employed, but it is Hirut's only chance to escape a certain death sentence. Shot entirely on 35mm, the film captures an extraordinary time in the history of Ethiopia and the universal struggle for equal rights for women and children around the globe. Featuring a mesmerizing performance from Meron Getnet (a popular actress in Ethiopia) as Meaza, Difret is a high watermark for Ethiopian cinema and heralds the arrival of an exciting new creative voice from Ethiopia.
Director Biography
Writer-director Zeresenay Mehari has been making movies for over a decade. Mehari moved to the U.S. from Ethiopia to study at USC's School of Cinematic Arts. He graduated with a Bachelor of Arts degree. He founded the production company Haile Addis Pictures to help produce his first feature, Difret (2014). Difret was nominated for the Grand Jury Prize at Sundance and has won the Panorama Audience Award at the Berlin International Film Festival and the Audience Award at Sundance.
Sponsored by The Academy of Motion Picture Arts & Sciences, Delta Air Lines
Director:
Zeresenay Berhane Mehari
Principal Cast:
Meron Getnet, Tizita Hagere
Country:
Ethiopia
Year:
2014
Running Time:
99 minutes
Producer:
Mehret Mandefro, Leelai Demoz, Zeresenay Berhane Mehari
Screenplay:
Zeresenay Berhane Mehari
Cinematographers:
Monika Lenczewska
Editors:
Agnieszka Glinska
Music:
David Schommer, David Eggar
Website:
Official Film Website
Awards:
Sundance Film Festival 2014 (Audience Award, World Dramatic), Berlin Film Festival 2014 (Panorama Audience Award)
Filmography:
Debut Feature Film
Language:
Amharic
HasSubTitles:
Yes
Format:
DCP
Show All