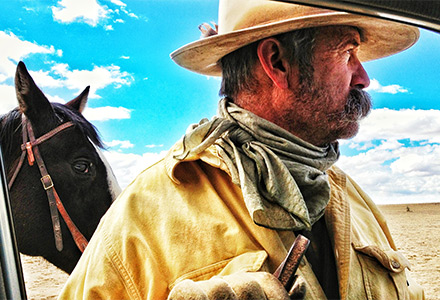 Duke and the Buffalo
USA | 2013 | 15 minutes | Alfredo Alcantara, Josh Chertoff
Once a year, a crew of Colorado ranchers rounds up two-thousand wild buffalo as part of a unique conservation effort to preserve these endangered animals.
This film is playing as a part of...
The compelling and timely debut feature from Sandy McLeod is, in her words, "about someone who saw a disaster in the making and was able to do something about it." That someone is crop diversity pioneer and conservationist Cary Fowler, who received funding from the Gates Foundation and others to found the first-ever Global Seed Vault.
Director:
Alfredo Alcantara, Josh Chertoff
Principal Cast:
Duke Phillips III, Duke Phillips IV, Jeff Gossage, Paul Robertson, Janet Phillips
Country:
USA
Year:
2013
Running Time:
15 minutes
Producer:
Alfredo Alcantara, Josh Chertoff, Duke Phillips
Cinematographers:
Alfredo Alcantara
Editors:
Josh Chertoff
Music:
Ben Talmi
Website:
Official Film Website
Language:
English
Show All