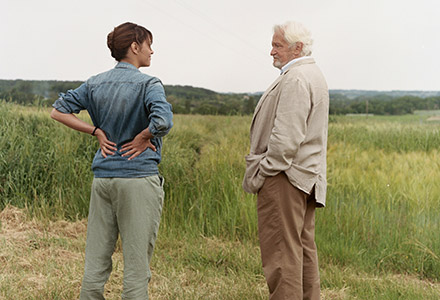 The Dune
La Dune
France | 2013 | 86 minutes | Yossi Aviram
This award-winning debut feature from Yossi Aviram gathers a strong French cast for the sensitive and suspenseful story of an aging gay cop and his long-estranged son, set in France and Israel.
Some choices we make have ripples that not only last a lifetime, but that carry over to the next generation. In Yossi Aviram's contemplative feature debut, Hanoch (Lior Ashkenazi), who owns a bicycle shop in Israel, seems indifferent to everything except for his languorous chess matches and conversations with his friend Fogel (Moni Moshonov). When his wife tells him she's pregnant, Hanoch replies that he's not ready for fatherhood, so she kicks him out. With nowhere else to go, Hanoch wanders to his native France and ends up mysteriously washed up on a beach by the dunes of the Landes coast. Meanwhile, in Paris, Ruben (Niels Arestrup) a 60-ish, melancholy police detective, contemplates retirement after an unpleasant experience tracking down a reclusive author (Mathieu Amalric). Ruben, who is gay and had suffered abuse for coming out decades earlier, wants to settle down with his life partner, Paolo (Guy Marchand). But before he leaves, he's assigned to the case of Hanoch, who's been struck mute and hospitalized with no identification. As Ruben and Hanoch warily orbit one another, they slowly discover clues to an old mutual bond. With sparse dialogue, the story of these taciturn characters is conveyed mostly through subtle body language, facial expressions and exquisite light captured by Aviram, a noted cinematographer. The Dune is an exercise in dignified understatement and a satisfying mystery about familial ties and the healing of old wounds.
Director Biography
Israeli director and writer Yossi Aviram studied film at the Sam Spiegel Film & Television School. He is known mostly for his cinematography work on documentaries such as Golda (2003), 5 Days (2005) and The Quest for the Missing Piece (2006). His documentary, Paris Returns (2009), about elderly gay couple Pierluigi and Reuven, is thought to be the inspiration for his first fictional narrative film, The Dune (2013), which won the Best Debut Award at the Haifa Film Festival last year.
Sponsored by TV5MONDE, Alliance Française de Seattle, French American Cultural Society, French Immersion School of Washington, The French American School of Puget Sound, Consulate General of Israel to the Pacific Northwest
Director:
Yossi Aviram
Principal Cast:
Niels Arestrup, Lior Askenazi, Emma de Caunes, Guy Marchand, Mathieu Amalric
Country:
France, Israel
Year:
2013
Running Time:
86 minutes
Producer:
Yael Fogiel, Laetitia Gonzalez, Amir Harel, Ayelet Kait
Screenplay:
Yossi Aviram
Cinematographers:
Antoine Héberlé
Editors:
Sari Eyouz
Music:
Avi Belleli
Website:
Official Film Website
Awards:
Haifa Film Festival 2013 (Best Debut Feature)
Filmography:
Paris Return (Doc, 2010)
Language:
French
HasSubTitles:
Yes
Format:
DCP
International Sales:
Le Pacte
Show All