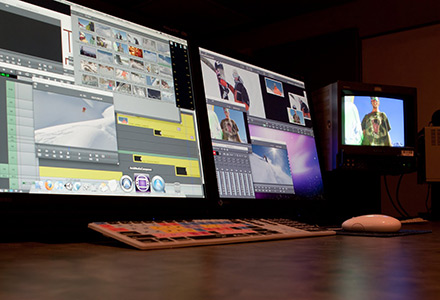 The Editor's Toolkit
120 minutes
The Editors Toolkit, a not to be missed opportunity to converse with experts in the field of Visual Effects.


Post-production magic and generated imagery are more than just eye candy; they can be integral to the film's success. SIFF and Women in Film Seattle invite you to explore the post-production side of filmmaking: visual effects (animation 2D, 3D, compositing, keying, mattes and green screen). We'll show clips to illustrate what can be done to create the illusion. Panelists will also discuss the planning and collaboration process that makes the magic.
Panelists:
Amy Enser is an award-winning filmmaker and Creative Director at Studio 216. Her documentary experience brings an innovative eye for authenticity to her narrative and corporate work. She has been prolific in Seattle since 2004 as a freelance editor and in 2011 joined new media company Studio 216. Her film credits include, the Telly award-winning Dinner Dialogues Documentary Series, The Only Time We Have (KCTS 2013, 1 Reel Film Festival, SIFF 2013), C.B. (KCTS 2013, SIFF 2012), This is Ours (Dances With Films 2012), Welcome to Doe Bay (KCTS 2013, SIFF "Best of Fest" 2012), Volunteer (Honolulu Film Awards Special Jury Prize 2012), History is Tradition (MOHAI Best Film in Open Category, 2011), Busking Cadenza (SIFF 2011), Modern Views (WA State SHPO Award for Historical Preservation 2011), Walk Right In (DocMiami 2010), A Healing Art (PBS POV 2009), The Heart is What Remains (Best Short, Local Sightings 2009), Ars Magna (National Emmy nominee 2009, PBS Documentary Spirit Award 2008). http://www.studio216.com
Joe Garber is an animator, artist/painter, graphic novelist and comics creator who works in 2D and 3D animations, and compositing. Joe is from Montana originally and grew up drawing pictures and doing stop motion clay videos on a VHS camcorder. He moved to Seattle to go to art school, studied animation, got an internship at Digital Kitchen, was there for 2 years learning about design, motion, and story-telling. His passion lies in character animation, illustration, and comics. Joe's paintings have been exhibited locally and among other creative endeavors Joe has also created an ongoing story told by the world, The Odyssey of Blue Boy at www.toobb.org which you too can be a part of and write a chapter. http://www.joegarber.net
Chad Perkins is a filmmaker, author, musician, and visual effects artist. He is executive producer of the web series Dead Grandma, starring Jon Heder (aka Napoleon Dynamite). He is also a cinematographer, having worked as Director of Photography on Grief or Madness, I Love You Puppet Man, and GODLIZZA, as well as the 2nd Unit DP on the Ice Cube music video "Drop Girl ft. Redfoo and 2 Chainz." He has over a decade of experience as a motion graphics and visual effects artist, having authored multiple editions of the books The After Effects Illusionist and How to Cheat in After Effects (both by Focal Press) based on his extensive knowledge of and experience with Adobe After Effects in post production. He is also one of the most prolific trainers (an award-winning software trainer, Adobe Certified Instructor and Certified Expert, and CompTIA Certified Technical Trainer) on Lynda.com, one of the top 100 websites in the United States. He's authored over 30 training courses in video production, cinematography, video editing, visual effects, and more. Chad has a blog and podcast with his brother and fellow lynda.com author, Todd Perkins, at www.chadandtoddcast.com. For questions, tips, and humorous musings, follow him on Twitter@chad_perkins.
Carina Simmons is a freelance artist who specializes in 2D animation and illustration. After an internship at Digital Kitchen and working as a production assistant on independent and commercial projects, she began her career as a designer and animator working with companies in Seattle, Portland and LA. Her work ranges from storyboarding and character design to concept creation and directing. Most recently she created a short film in association with the documentary Girl Rising and continues to pursue projects advocating awareness and education.
Stefan Scherperel is a Director of Photography and Visual Effects Supervisor/Artist with a degree in Photography and Cinematography. Stefan began working as a visual effects artist in 2008 taking his production company Fueled Creative to another level. With commercial clients demanding more and more visual effects work, Stefan taught himself the fine art of compositing and 3D computer modeling and animation and works with high profile companies such as Coca Cola, Intel, Microsoft and MTV. Stefan's passion has always been narrative filmmaking - he helped director Mathew Morris bring a futuristic vision of Seattle to life in the science fiction film Sans Vie and used his visual effects skills in Julio Ramirez's feature Nothing Against Life. Stefan was Visual effects Supervisor and Artist for the feature film The One I Love from Director Charlie McDowell and Seattle Producer Mel Eslyn. Stefan enjoys working equally as a Director of Photography and visual effects artist. Most recently Stefan shot A Penny Earned, a 2012 NBC Universal Short Cuts Festival semi-finalist. http://www.fueledcreative.com
Virginia Bogert, moderator, is president of Women in Film Seattle and a documentary and narrative filmmaker. Her corporate work focuses on non-profits working on behalf of the Arts, education, human rights, and the environment. She has multiple Emmys and Telly Awards under her belt with work screening at many international festivals and on Public Television. www.laughingdogpictures.com www.womeninffilmseattle.org
Running Time:
120 minutes