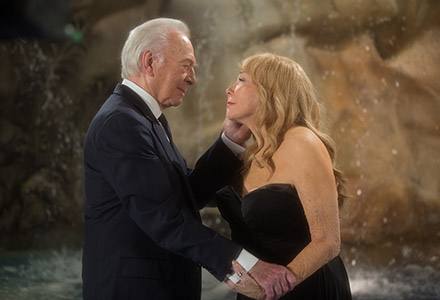 Elsa & Fred
USA | 2014 | 104 minutes | Michael Radford
Shirley MacLaine and Christopher Plummer star in this remake of the SIFF Golden Space Needle award-winning Spanish film as late-in-life lovers who see the world anew through each other.
She (Shirley MacLaine) is a feisty widow with a thing for Fellini, and a tendency to stretch the truth a few extra notches. He (Christopher Plummer) is a dyed-in-the-wool curmudgeon, seemingly content to grumble at anything within the proximity of his spacious New Orleans apartment. When a housewares-related mishap brings these next-door neighbors together, the sparks that fly are far from the love-at-first-sight variety. As the two come into increased contact with each other's considerable quirks, however, some exhilarating new possibilities begin to enter the picture. Remaking the celebrated Spanish-Argentine original (winner of the SIFF 2006 Golden Space Needle Award), director Michael Radford's film works as a refreshingly non-saccharine look at the struggles—and rewards—of forging a relationship in the twilight years, as well as a justified victory lap for its two stars, who play off each beautifully. Bolstered by an exceptional supporting cast (including Marcia Gay Harden, Scott Bakula, George Segal, and Chris Noth), MacLaine and Plummer bring a lifetime of collective experience to their scenes together, with a give-and-take energy that's a wonder to behold. Their unique chemistry results in a movie that feels both light and deep, and which comes by its considerable emotions honestly. Viewers with a fondness for La Dolce Vita may wish to have a few extra tissues handy.
Director Biography
Michael Radford was born in New Delhi, India, and was educated at Bedford School and at Worcester College, Oxford. He went to the National Film School as one of the first 25 students in its inaugural year. In 1983, his film Another Time, Another Place won fifteen major prizes at festivals around the world. The critical success of this film launched his career in feature films. Elsa & Fred is Michael Radford's 15th feature.
Sponsored by Ingeniux, KVOS
Director:
Michael Radford
Principal Cast:
Shirley MacLaine, Christopher Plummer, Marcia Gay Harden, Jared Gilman, Chris Noth
Country:
USA
Year:
2014
Running Time:
104 minutes
Producer:
Jose Levy, Matthias Ehrenberg, Nicolas Veinberg, Ricardo Kleinbaum, Ed Saxon
Screenplay:
Mike Bell, Anna Pavignano, Michael Radford
Cinematographers:
Michael McDonough
Editors:
Peter Boyle
Music:
Luis Bocalov
Website:
Official Film Website
Filmography:
Michel Petrucciani (Doc, 2011); Flawless (2007); The Merchant of Venice (2004); Ten Minutes Older: the Cello (2002); Dancing at the Blue Iguana (2000); B. Monkey (1998); Il Postino (1994); White Mischief (1987); Nineteen Eighty-Four (1984); Another Time, Another Place (1983); Van Morrison in Ireland (Doc, 1980)
Language:
English
Format:
DCP
US Distributor:
Millennium Entertainment
International Sales:
Inferno Distribution
Show All