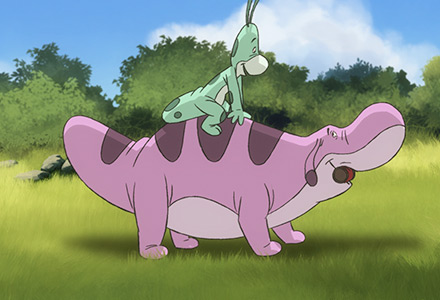 The Family Picture Show
2014 | 80 minutes
Bring the whole family to the cinema for a playful set of animated, live action, and documentary short films curated for the young and the young at heart.
Packaged Films
A goat transforms the spooky sounds of the forest around him as they fade into a playful dream of a piper and a myriad of colorful goats.
A boy finds something amazing in the forest and no one believes him. It will be a perfect exhibit to unveil at the science fair.
A group of London Guards are headed for high-flying hijinks when an unexpected member joins their band.
An alien creature lives on a tiny planet collecting garbage which falls from the intergalactic highway. But one day, something lands on his home that changes his life.
When is a kiss more than a kiss? ... When it's your first kiss.
When Bikini Bottom's jellyfish population is threatened by Plankton's maniacal plans, it's up to SpongeBob, Patrick, and Sandy to save the day.
The story of a super villain father and his daughter. On her 13th birthday, he discovers her deep, dark, secret.
A chubby French baker liberates the graceful ballerina within when she combines her pastries with her heartfelt imagination.
A music box unlocks a little girl's passion for dance no matter the odds.
Friends 1, 2, 3, 4 and 5 live in a world where there is no alphabet - only numbers. One day, they decide they want something different and set out to create each letter of the alphabet with color, creativity...and jellybeans.
Pink tutus. Pink helmets. Pink skateboards. Skateboarding is not just for boys.
On a tabletop mountain, a mahout and his strange herd make a surprising and never-ending journey.
Year:
2014
Running Time:
80 minutes