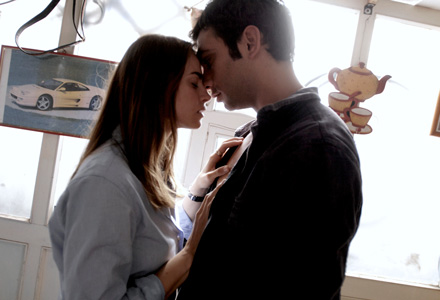 Fasten Your Seatbelts
Allacciate le Cinture
Italy | 2014 | 110 minutes | Ferzan Ozpetek
Elena balances the demands and rewards of intimacy over thirteen years of passion, friendship, and heartache with the two great loves of her life.
The rules of attraction are usually driven by the heart—not to mention the rest of the body—and have little to do with the mind. Such is the case with polar opposites Elena (Kasia Smutniak) and Antonio (Francesco Arca). Elena is free-spirited while Antonio is conservative, hard-edged, and openly homophobic. But as the title implies, there is turbulence up ahead. Elena and Antonio feel an undeniable, illogical attraction. But it's an urge that they cannot act on, as Antonio is to be married to Elena's best friend Silvia (Carolina Crescentini) and Elena has a boyfriend named Giorgio (Francesco Scianna). More than just a love triangle, it's more like a "love rhombus." Jump ahead 13 years, though, and the crisis seems to be averted. Antonio and Silvia are married, as are Elena and Giorgio (Francesco Scianna), who have two children together. But the calm is soon shattered again by a dreadful cancer diagnosis, which upsets the delicate balance of these interconnected relationships. Long-thwarted desires rise unexpectedly to the surface, threatening the stability of marriages and life-long friendships. Full of gorgeous, sun-drenched scenery from the Apulia region of Southern Italy, and populated with bronzed, equally gorgeous people, Fasten Your Seatbelts is a feast for the senses. Be prepared: It's going to be a bumpy night of romance and drama.
Director Biography
Ferzan Özpetek, from Istanbul, Turkey, studied Cinema History at Sapienza University of Rome in 1976 and has stayed in Italy ever since. He started out as an assistant director, working on 15 films with such notables as Massimo Troisi, Maurizio Ponzi, Ricky Tognazzi, Sergio Citti, and Francesco Nuti. Since then, Özpetek has directed many award-winning films, His Secret Life (2001), Facing Windows (2003), Saturn in Opposition (2007), and his acclaimed debut feature, Steam: The Turkish Bath (1997).
Sponsored by Il Fornaio, Bellevue Reporter, Warm 106.9 FM, Seattle Met
Director:
Ferzan Ozpetek
Principal Cast:
Kasia Smutniak, Francesco Arca, Filippo Scicchitano, Francesco Scianna, Carolina Crescentini
Premier Status:
North American Premiere
Country:
Italy
Year:
2014
Running Time:
110 minutes
Producer:
Tilde Cosi, Gianni Romoli
Screenplay:
Gianni Romoli, Ferzan Ozpetek
Cinematographers:
Filippo Corticelli
Editors:
Patrizio Marone
Music:
Pasquale Catalano
Website:
Official Film Website
Filmography:
A Magnificient Haunting (2012); Loose Cannons (2010); A Pefect Day (2008); Saturn in Opposition (2007); Sacred Heart (2005); Facing Windows (2003); His Secret Life (2001); Harem Suare (1999); Steam: The Turkish Bath (1997)
Language:
Italian
HasSubTitles:
Yes
Format:
DCP
International Sales:
Pathe International
Show All