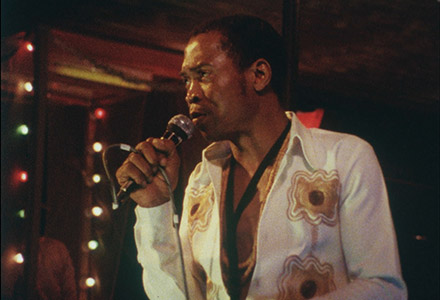 Finding Fela
June 6 | African Pictures Film and Party
USA | 2014 | 120 minutes | Alex Gibney
Afrobeat pioneer Fela Kuti's magnetism reverberates through time. The social and political significance of his life's work is considered through historic clips and scenes from the Broadway musical "Fela!"
---
African Pictures Film and Party
Friday, June 6 | 7:00PM
Film venue: AMC Pacific Place 11
Party: Northwest African American Museum
$25 | $23 Member
Ticket price includes seats at the screening and a post-film reception at NAAM catered by Chewaya Authentic Moroccan BBQ and featuring beverages provided by Barefoot Wines, New Belgium Brewing, San Pellegrino, Acqua Panna, and Honest Tea. Live music by dnk. Availability is limited.
$12 | $10 Member
Ticket includes screening only.
---
At the dawn of the 1970s, Nigerian Fela Anikulapo Kuti created the musical movement known as Afrobeat, a prismatic mix of jazz, funk, high-life, West African drums, and Yoruban chants. Within a few short years, his polyrhythmic innovations and confrontational lyrics became the soundtrack of Africa's new postcolonial activism. Fela also put his political money where his mouth was by creating a combination commune/recording studio/home for his extended musical family, which he named the Kalakuta Republic. While Kuti embraced his controversial celebrity, it also made him the target of Nigeria's ruthless military regime. With each consecutive album, the military ratcheted up the consequences, moving quickly from harassment to arrests and violence against the Republic. Eleven years after Kuti's death, Academy Award®-winning director Alex Gibney (Taxi to the Dark Side) joined with renowned choreographer Bill T. Jones (a Tony Award-winner for "Spring Awakening") to record the rehearsals and performances of a Broadway musical of Fela's life. Inspired by Jones' interest in Kuti, Gibney began his own non-fiction investigation into Fela's life. Blending footage of Jones' kinetic staging with Kuti's magnetic interviews and performances, Finding Fela offers us unprecedented access to the life of this complex, provocative performer.
Director Biography
Born in 1953, Alex Gibney, known for his powerful documentaries, is one of the most accomplished non-fiction filmmakers working today. His 2008 film, Taxi to the Dark Side , received an Oscar for Best Feature-Length Documentary, a Best Director nomination from the Director's Guild of America, as well as a Writer's Guild of America Award for Best Screenplay. Alex received another Academy Award nomination in 2006 for ENRON: The Smartest Guys in the Room, which also won the Independent Spirit Award and the WGA Award, and he served as an Executive Producer on the Academy Award-nominated No End in Sight (2007). Finding Fela is his 26th documentary.
Sponsored by The Academy of Motion Picture Arts & Sciences, Delta Air Lines, Northwest African American Museum, EMP Museum, KEXP 90.3 FM
Director:
Alex Gibney
Country:
USA
Year:
2014
Running Time:
120 minutes
Producer:
Alex Gibney, Jack Gulick
Cinematographers:
Maryse Alberti
Editors:
Lindy Jankura
Music:
Fela Anikulapo-Kuti
Website:
Film Official Website
Filmography:
The Amstrong Lie (Doc, 2013), We Steal Secrets: The Story of Wikileaks (Doc, 2013), Park Avenue: Money, Power and the American Dream (Doc, 2012), Mea Maxima Culpa: Silence in the House of God (Doc, 2012), The Last Galdiators (Doc, 2011), Magic Trip (Doc, 2011), Catching Hell (Doc, 2011), Client 0: the Rise and Fall of Eliot Spitzer (Doc, 2010), Freakonics (Doc, 2010), My Trip to Al-Qaeda (Doc, 2010), Casino Jack and the United States of Money (Doc, 2010), Gonzo: The Life and Work of Dr. Hunter S. Thomspon (Doc, 2008), Taxi to the Dark Side (Doc, 2008), Behind Those Eyes (Doc, 2005), Enron: the Smartest Guys in the Room (Doc, 2005)
Language:
English
Format:
DCP
Show All