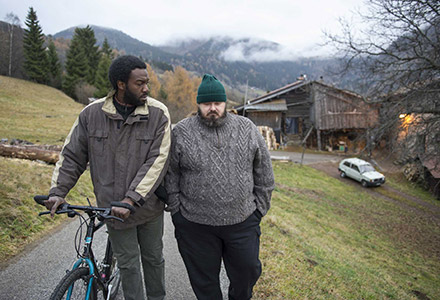 First Snowfall
La Prima Neve
Italy | 2013 | 104 minutes | Andrea Segre
A beautifully filmed story of intergenerational friendship. Dani is a refugee from Togo who winds up in the shadow of the breathtaking Italian Alps. As he starts to mend the psychic wounds of war, he befriends the grandson of his elderly employer.
African refugee Dani (Jean-Christophe Folly) had never seen snow in his homeland of Togo. But after seeking a better life in Europe, he finds himself in a group house in the shadow of the breathtaking Italian Alps, a place nearly as alien to him as the moon. The journey across the Mediterranean the previous year was perilous and ultimately tragic, with his pregnant wife dying during childbirth shortly after their arrival. As a result, Dani has trouble connecting with his toddler daughter and struggles to comprehend this new, chilly world. As he finds work as a carpenter's assistant and tries to mend his psychic wounds, Dani befriends Michele (Matteo Marechal, in his impressive film debut), the precocious 11-year-old grandson of his boss. Michele also has problems coping; since his father's recent death, he suffers from recurring nightmares and begins skipping school for romps through the woods. As Dani and Michele work on odd jobs around the valley, they slowly form a bond and help each other through the grieving process. Set during autumn in Italy's Mocheni Valley, where the residents speak an obscure Germanic dialect, First Snowfall makes abundant use of the stunning alpine scenery, with the icy blue light captured by celebrated cinematographer Luca Bigazzi. Director Andrea Segre, known mostly for documentaries, shows an adept hand at narrative drama in this affecting tale of loss, redemption and intergenerational connection.
Director Biography
Italian director, writer and cinematographer Andrea Segre cut his teeth in the television industry, directing documentaries on social issues and immigration, including Il Sangue Verde (2010), Closed Sea (2012), and Indebito (2013). His first feature-length narrative, Shun Li and the Poet (2010), won several awards on the international festival circuit, such as the European Parliament's LUX Prize. First Snowfall (2013) is his second narrative feature.
Sponsored by Club Alpino Italiano Pacific Northwest, Osteria La Spiga
Director:
Andrea Segre
Principal Cast:
Jean-Christoph Folly, Matteo Marchel, Anita Caprioli, Peter Mitterrutzner, Giuseppe Battiston
Country:
Italy
Year:
2013
Running Time:
104 minutes
Producer:
Francesco Bonsembiante, Marco Paolini
Screenplay:
Andrea Segre, Marco Pettenello
Cinematographers:
Luca Bigazzi
Editors:
Sara Zavarise
Music:
Piccola Bottega Baltazar
Website:
Official Film Website
Awards:
Bastia Italian Film Festival 2014 (Audience Award)
Filmography:
Rebetiko Crisis: Undue Debt (Doc, 2013); Closed Sea (Doc, 2012); Shun Li and the Poet (2011); Il Sangre Verde (Doc, 2010); Come un Uomo Sulla Terra (Doc, 2008); Checosamanca (Doc, 2006)
Language:
Italian, French, Mina
HasSubTitles:
Yes
Format:
DCP
International Sales:
Adriana Chiesa Enterprises
Show All