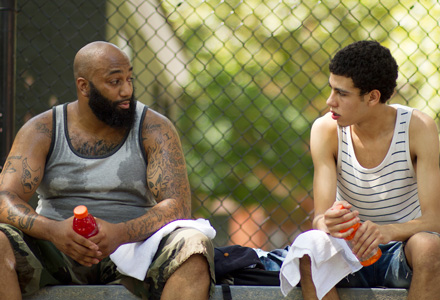 Five Star
USA | 2014 | 83 minutes | Keith Miller
In this riveting drama which incorporates details from the actors' lives, Primo has been an East New York Blood since childhood. John, the son of a fallen gang member, comes to Primo out of curiosity about gang life. As a mentorship blooms, a secret threatens both men's futures.
FIPRESCI-winning writer-director Keith Miller (Welcome to Pine Hill, SIFF 2012) returns to SIFF with Five Star, another carefully realized, nuanced portrait of people in various states of transition. Primo (James Grant) is a thoughtful, well-spoken family man, and also a general in the East New York Bloods. When John (John Diaz), the son of a well-respected fallen gang member, begins to explore the possibility of gang life, Primo becomes an unlikely mentor. As John attempts to juggle his work for Primo, a budding romantic relationship with a new girlfriend, and his mother's attempts to steer him away from the street, he begins to question certain long-held, unspoken truths in his life. The deeper John gets, the more Primo reveals to him, and the more John learns about his father. But, when those unspoken truths can no longer be denied, John and Primo must sort out their shared history once and for all. Blending equal elements of narrative and non-fiction filmmaking, Miller creates an honest portrait of two men on the brink as they come to terms with what it means to be a father, a son, and a man.
Director Biography
A New York-based painter as well as a filmmaker, Keith Miller has participated in many exhibitions and film festivals among the years. His first feature, Welcome to Pine Hill, won the Grand Jury Prize at both the Slamdance and Atlanta Film Festivals.
Sponsored by Ingeniux
Director:
Keith Miller
Principal Cast:
James Grant, John Diaz, Jasmin Burgos, Tamara Robinson, Wanda Colon
Country:
USA
Year:
2014
Running Time:
83 minutes
Producer:
Keith Miller, Daryl Freimark, Luisa Conlon
Screenplay:
Keith Miller
Cinematographers:
Ed David, Alex Mallis
Editors:
Keith Miller
Music:
Michael Rosen
Website:
Official Film Website
Awards:
Tribeca Film Festival 2014 (Best Editing)
Filmography:
Welcome to Pine Hill (2012)
Language:
English
Format:
HDCAM
Show All