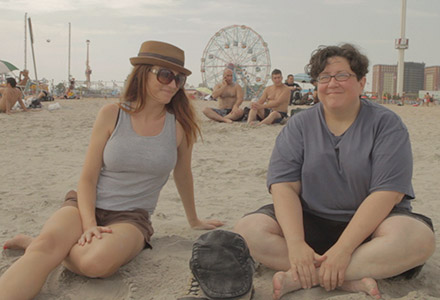 The Foxy Merkins
USA | 2013 | 81 minutes | Madeleine Olnek
Jo is straight but picks up women with more efficiency than asthmatic, shy lesbian hustler Margaret in this low-budget buddy comedy where high-end ladies fashion stores stand in for the street corner.
Schedule
May 23, 2014
xHarvard Exit  
9:30 PM
Date has passed

Director Madeleine Olnek scheduled to attend

May 25, 2014
xHarvard Exit  
4:00 PM
Date has passed

Director Madeleine Olnek and special guests scheduled to attend

Show All
It's never easy turning tricks on the mean streets of New York, but it's even harder if you're a plus-sized, asthmatic, allergic lesbian who's too shy to even talk to potential customers, let alone bed them. Such is the plight of Margaret (co-writer Lisa Haas), a hapless, recently homeless woman who turns to prostitution to survive. It's a potentially tragic situation, but director and co-writer Madeleine Olnek plays the scenario for absurdist, deadpan laughs. Margaret's luck changes when she befriends Jo (Jackie Monahan), a pretty, more experienced bisexual hooker who shows Margaret the best places to pick up high-paying women—usually closeted Republican socialites who shop at high-end ladies fashion stores. We see a parade of Margaret's "dates" with bizarrely fetishistic clients and other peculiar characters, including an uber-creepy merkin salesman (Alex Karpovsky from HBO's "Girls"), who calls them "toupees for your vagina." In between tricks, Jo also helps Margaret search for her estranged mother, leading Margaret to question the nature of Jo's friendship. After adding a tongue-in-cheek lesbian vibe to the sci-fi B-movie genre with Codependent Lesbian Space Alien Seeks Same, Olnek applies a similar satiric style here, sending up gritty, neorealist hustler films like Midnight Cowboy. With a delicate balance of humor and pathos, The Foxy Merkins gives humanity and charm to characters on the seedier side of urban life, adding a laugh to every wince-inducing situation.
Director Biography
Writer-director Madeleine Olnek is becoming a master of deadpan gay New York satire, first with her debut feature, Codependent Lesbian Space Alien Seeks Same (2011), and now with her lesbian hooking comedy The Foxy Merkins (2013). She has produced more than 20 plays and co-wrote a book called "A Practical Handbook for the Actor." Olnek also earned a William Goldman Screenwriting Fellowship and the Adrienne Shelly Award for Best Female Director at Columbia University.
Sponsored by Ingeniux, Click 98.9 KWJZ
Director:
Madeleine Olnek
Principal Cast:
Lisa Haas, Jackie Monahan, Susan Ziegler, Alex Karpovsky, Sally Sockwell
Country:
USA
Year:
2013
Running Time:
81 minutes
Producer:
Laura Terruso, Madeleine Olnek
Screenplay:
Lisa Haas, Jackie Monahan, Madeleine Olnek
Cinematographers:
Anna Stypko
Editors:
Curtis Grout
Music:
Dan Bartfield
Website:
Official Film Website
Awards:
Independent Spirit Nominee
Filmography:
Codependent Lesbian Space Alien Seeks Same (2011)
Language:
English
Format:
DCP
Show All