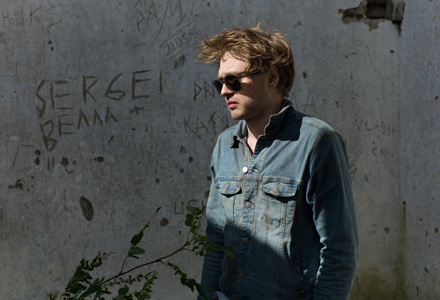 Free Range: Ballad on Approving of the World
Free Range: Ballaad maailma heakskiitmisest
Estonia | 2014 | 104 minutes | Veiko Ounpuu
This stylish Estonian joy ride follows slacker Fred, who struggles with feelings of nihilism after getting fired for writing an unfavorable review of Terrence Malick's film Tree of Life. Finland's official OSCAR® submission for Best Foreign Language Film.
This freewheeling, darkly humorous slacker movie takes us on a joy ride of neverending surprises. Effortlessly cool and stylish, Free Range examines modern life, especially the tensions between conformity and the desire for free will. Meet perfectly cast Lauri Lagle as Fred, an evasive, non-confrontational twentysomething narcissist. He works for a newspaper writing film reviews but spends more time tending to his personal literary ambitions. When he hands in a crassly unfavorable review for Terrence Malick's Tree of Life, he's fired. Compounding his problems, Fred's girlfriend is pregnant and an old flame starts fluttering around his life again. Typically, Fred deals with most problems by ignoring them. Will that tactic work now? In his new manual labor job, he drives a forklift back and forth and stacks containers into towers, a job he doesn't take seriously. Free Range searches for the same sense of freedom and authenticity as films like Five Easy Pieces and Easy Rider, which left deep impressions on director Veiko Ounpuu. Embellished with an outstanding 1970s-centered soundtrack featuring an eclectic selection of music from Cat Stevens to Arvo Pärt, Free Range is a complex character study that gathers strength as it rolls along.
Director Biography
Veiko Õunpuu (born March 16, 1972 in Saaremaa) is an Estonian film director and screenwriter who is best known for his artistic movies Autumn Ball (Sügisball, 2007) and The Temptation of St. Tony (Püha Tõnu kiusamine, 2009). Õunpuu's films are usually slow paced artistic movies with eccentric characters. In 2006, he wrote and directed independent short film Empty (Tühirand). In 2007, he adapted Mati Unt's novel Autumn Ball (Sügisball) and won Horizon Award in Venice Film Festival. The film is still the highest international recognition an Estonian film ever had. In 2010, Õunpuu's second feature drama The Temptation of St. Tony (Püha Tõnu kiusamine) screened at the Sundance Film Festival, Rotterdam, and Karlovy Vary. Free Range is his third feature.
Sponsored by KING5
Director:
Veiko Ounpuu
Principal Cast:
Lauri Lagle, Jaanika Arum, Laura Peteson, Peeter Volkonski
Premier Status:
North American Premiere
Country:
Estonia
Year:
2014
Running Time:
104 minutes
Producer:
Katrin Kissa
Screenplay:
Veiko Onupuu, Robert Kurvitz
Cinematographers:
Mart Taniel
Editors:
Liis Nimik
Website:
Official Film Website
Awards:
Official Oscar Submission 2013 (Best Foreign Language Film)
Filmography:
The Temptation of St. Tony (2009); Sügisball (2007)
Language:
Estonian
HasSubTitles:
Yes
Format:
DCP
International Sales:
LevelK
Show All