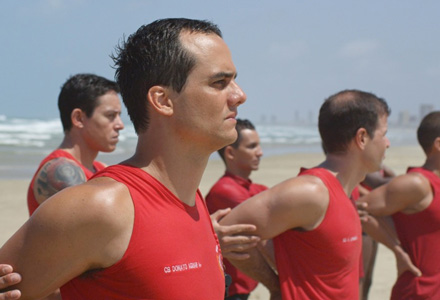 Futuro Beach
Praia do Futuro
Brazil | 2014 | 106 minutes | Karim Aïnouz
Two breakneck motorcycle rides bookend a tactile gay romance, told over three chapters and in the contrasting locations of sexy Brazil and frigid Berlin. Karim Ainouz's latest feature is an astonishingly colorful and intimate look into the complexities of human relationships.
Two breakneck motorcycle rides—one on the sand dunes of a Brazilian wind farm and one on the German autobahn—bookend a tactile gay romance told over three chapters and in the contrasting locations of sexy Brazil and frigid Berlin. Karim Ainouz's fifth feature regales with visions of male beauty not so appreciated since Claire Denis' Beau Travail, while revealing much about relationship despite a script as skimpy as the attire on Fortaleza's beaches. In the opening chapter, Donato (Wagner Moura) is a lifeguard on Praia do Futuro who's taken aback by the first drowning that occurs on his watch. The victim's companion, Konrad (Clemens Schick), is an Afghanistan war veteran visiting from Germany, who looks to Donato first for comfort—and then love. Chapter two downshifts from the dazzling bright colors of South America to the steely shades of industrialized Berlin, while never losing its forward momentum. Donato has joined Konrad to settle there, embracing his sexuality but missing his adoring younger brother Ayrton and the beaches where he grew up. In the final third, Ayrton is now an 18-year-old thrill-seeker himself, looking for Donato in Berlin. Director Ainouz imparts Donato with the expats' dual mentality of excited anxiousness. Cinematographer Ali Olcay Gözkaya expresses psychological states with dramatic shifts in light and palette, while Hauschka provides a dreamily melancholic, ambient score, in this story about losing yourself in the city, in the sea, and in love.
Director Biography
Born in Fortaleza in Brazil in 1966, he studied architecture in Brazilia and film at NYU. His feature film debut Madame Satã (2002) screened in 'Un Certain Regard' in Cannes and won several international awards. In 2008 he directed the television series "Alice." His art installations have been exhibited widely including at the São Paulo Biennial and the Sharjah Biennial.
Director:
Karim Aïnouz
Principal Cast:
Wagner Moura, Clemens Schick, Jesuita Barbosa
Premier Status:
US Premiere
Country:
Brazil, Germany
Year:
2014
Running Time:
106 minutes
Producer:
Geórgia Costa Araújo
Screenplay:
Felipe Bragança
Cinematographers:
Ali Olay Gözkaya
Editors:
Isabela Monteiro de Castro
Music:
Volker Bertelmann
Website:
Official Film Website
Filmography:
The Silver Cliff (2011); I Travel Because I Have To, I Come Back Because I Love You (2009); Love for Sale: Suely in the Sky (2006); Madame Satã (2002)
Language:
Portuguese, German
HasSubTitles:
Yes
US Distributor:
Strand Releasing
International Sales:
The Match Factory
Show All