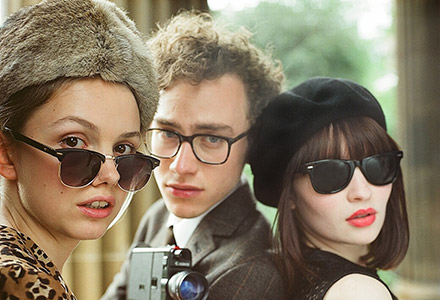 God Help the Girl
United Kingdom | 2014 | 111 minutes | Stuart Murdoch
Belle & Sebastian leader Stuart Murdoch's debut film is based on his titular 2009 album, full of the wry themes and brilliant melodies beloved by fans. The coming of age indie pop musical centers on Glaswegian pals Eve, James, and Cassie as they fall in love and form a band, not in that order.
God Help the Girl, the directorial debut from Stuart Murdoch of the Glasgow indie pop band Belle and Sebastian, is a musical set to the songs from Murdoch's 2009 album of the same name. Eve (Emily Browning), a depressive anorexic with dreams of becoming a musician escapes from a mental hospital in order to pursue her career in music. She eventually runs into her soon to be band mates James (Olly Alexander), an unpolished guitarist who is madly in love with her, and Cassie (Hannah Murray), an eloquent English girl with a knack for singing. The three of them spend a summer developing a band and relationships. Belle and Sebastian have always been known for their whimsical lyrics and twee sentimentality to which God Help the Girl stays true. Filmed on 16mm, the film's aesthetic is chicly minimalist. Vanity is the lifeblood that runs through the heart of the musical genre, but in God Help the Girl there is something more honest than vain amidst all the beautiful faces and playful meandering.
Director Biography
Stuart Murdoch was born in Scotland and is currently the lead singer of indie group Belle & Sebastian. Although Murdoch has worked on several film soundtracks, God Help the Girl is his first feature film as a director.
Sponsored by Snoqualmie Ice Cream, W Seattle Hotel, Click 98.9 KWJZ, EMP Museum, KEXP 90.3 FM
Director:
Stuart Murdoch
Principal Cast:
Emily Browning, Olly Alexander, Hannah Murray, Cora Bissett, Pierre Boulanger
Country:
United Kingdom
Year:
2014
Running Time:
111 minutes
Producer:
Barry Mendel
Screenplay:
Stuart Murdoch
Cinematographers:
Giles Nuttgens
Editors:
David Arthur
Website:
Official Film Website
Awards:
Sundance Film Festival 2014 (Special Jury Award, World Cinema)
Filmography:
Debut Feature Film
Language:
English
Format:
DCP
US Distributor:
Amplify • Variance Films
International Sales:
HanWay Films
Show All