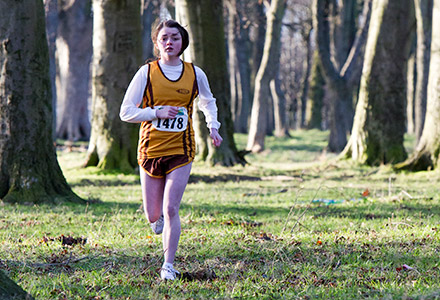 Gold
Ireland | 2014 | 90 minutes | Niall Heery
Ray is a down-on-his-luck guy who, along with his dying father, seek out his estranged ex-girlfriend and their teenage daughter (Maisie Williams, "Game of Thrones"). He must decide what to do next when he finds out she's started a new family with his former P.E. teacher.
Friday June 6 screening on STANDBY – Advance tickets not available
Twelve years ago, Alice left Ray, taking their daughter Abbie with her and leaving him deep in depression. However, when his ill father asks to see his granddaughter before it's too late, Ray reluctantly agrees and heads to his hometown to track down his estranged family. Only he finds Alice remarried to Frank, an overly ambitious fitness guru and Ray's old high school PE teacher driven by his dream of bringing a new revolutionary running technique to the world. The now teenaged Abbie, a competitive cross-country runner who will do anything to earn a gold medal, is the perfect guinea pig for this technique. But Ray's bumbling efforts to bridge the gap between him and his daughter only lead to chaos as all of his good intentions turn to comic catastrophe. Despite these setbacks, Ray finds himself slowly reconnecting with both Abbie and Alice. As in his feature film debut, Small Engine Repair (SIFF 2007), writer-director Niall Heery delivers a warmly humorous portrait of small town dreams and rivalries, where sometimes even the smallest victories, or losses, are enough to begin life anew.
Director Biography
Niall Heery is a writer-director based in Dublin, Ireland. He won the Breakthrough Talent Award at the Irish Film & Television Awards for his first feature film Small Engine Repair.
Sponsored by New Belgium Brewing Company, Inc.
Director:
Niall Heery
Principal Cast:
James Nesbitt, David Wilmot, Kerry Condon, Maisie Williams
Premier Status:
North American Premiere
Country:
Ireland
Year:
2014
Running Time:
90 minutes
Producer:
Tristan Orpen Lynch, Aoife O'Sullivan
Screenplay:
Niall Heery, Brendan Heery
Cinematographers:
Tim Fleming
Editors:
Tony Cranstoun
Music:
Niall Byrne
Website:
Official Film Website
Filmography:
Small Engine Repair (2006)
Language:
English
International Sales:
Subotica Limited
Show All