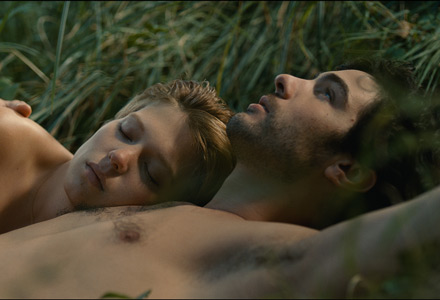 Grand Central
France | 2013 | 94 minutes | Rebecca Zlotowski
Incendiary French star Léa Seydoux (Blue is the Warmest Color) plays an engaged woman who embarks on a risky affair with Tahar Rahim (A Prophet) in the nuclear power plant where they both work.
Incendiary French star Léa Seydoux (Blue is the Warmest Color) reunites with Belle Épine director Rebecca Zlotowski for this intense love triangle set in and around a nuclear power plant. Gary (Tahar Rahim, A Prophet) arrives at the plant looking to score hazard pay, finding maintenance work close to the reactor itself. But the real danger comes in the form of his attraction to Karole (Seydoux), who also works at the facility alongside her fiancé Toni (Denis Ménochet). Shooting in an actual, billion-dollar Austrian plant that was completed shortly before the country voted to ban nuclear power, Zlotowski grounds her melodrama in the mundane operations of this clinical, antiseptic environment. She draws a stark contrast between this industrial space and the lush countryside that surrounds it, where the tight-knit workers can let their hair down and enjoy themselves, but is also alert to the wider complexities and ironies implicit in this setup, most specifically the ramifications of Gary and Karole's illicit love affair.
Director Biography
Rebecca Zlotowski was born in Paris, in 1980. A student from the École Normale and a graduate in modern literature, she went on to study screenplay writing at la Femis. Presented at Cannes in 2010, her film Belle Épine was awarded le Prix Louis Delluc and the Prix de la Critique for best first film. Grand Central is her second film.
Director:
Rebecca Zlotowski
Principal Cast:
Tahar Rahim, Léa Seydoux, Olivier Gourmet, Denis Ménochet, Johan Libereau
Premier Status:
Seattle
Country:
France, Austria
Year:
2013
Running Time:
94 minutes
Producer:
Frédéric Jouve
Screenplay:
Gaëlle Macé, Rebecca Zlotowski
Cinematographers:
George Lechaptois
Editors:
Julien Lacheray
Music:
ROB
Website:
Official Film Website
Awards:
Lumiere Awards 2014 (Best Actress, Lumiere Special Award)
Filmography:
Belle Épine (2010)
Language:
French
HasSubTitles:
Yes
Format:
DCP
International Sales:
Elle Driver
Show All