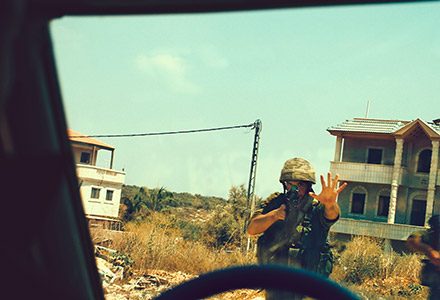 The Green Prince
Germany | 2014 | 95 minutes | Nadav Schirman
A Palestinian from Ramallah, Mosab Hassan Yousef grew up ready to fight Israel. As an informant, a decade-long assignment required him to betray his father; a moral conflict that's the catalytic centerpiece of The Green Prince, based on Yousef's memoir, "Son of Hamas".
A true story that stands up to the best of Hollywood's fictional espionage thrillers. Mosab Hassan Yousef grew up in the shadow of his father, a founder of Hamas, Palestine's fundamentalist political group. But after inherently entering the conflict by being arrested at age 17 for gun smuggling, Mosab is moved to make a choice between betrayal and protection. When approached by a top leader in Shin Bet, Israel's security organization, to become a spy on behalf of Hamas' foe, Mosab abandons his loyalty to his father and community in hopes that he can combat his father's persecution and the ruthless violence inflicted on both sides of the conflict. After all, the only way his father can be protected is if Mosab makes strides to have him put in prison. Wrestling with the shame that comes with working for the enemy, Mosab finds support from his Shin Bet handler, who has achieved the greatest prize of them all—handling the oldest son of a founding Hamas member. Would-be adversaries become comrades in this tangled web of terror, tradition, surveillance, and loyalty.
Director Biography
Schirman's first feature documentary, The Champagne Spy (2008), won the Israeli Academy Award for Best Documentary, was nominated for the European Academy Award, and won the John Schlesinger Award for Outstanding First Feature as well as many other international awards and nominations. His second feature documentary, In the Dark Room (2013), produced by Karl Baumgartner and Pandora Films, is the second part of a trilogy that continues with The Green Prince.
Sponsored by Goethe-Institut, Antioch University Seattle
Director:
Nadav Schirman
Country:
Germany, Israel, United Kingdom
Year:
2014
Running Time:
95 minutes
Producer:
Nadav Schirman, John Battsek, Simon Chinn
Screenplay:
Nadav Schirman
Cinematographers:
Hans Fromm, Giora Bejach, Raz Dagan
Editors:
Joelle Alexis, Sanjeev Hathiramani
Music:
Max Richter
Website:
Official Film Website
Awards:
Sundance Film Festival 2014 (Audience Award, World Documentary)
Filmography:
In the Dark Room (Doc, 2013); The Champagne Sky (Doc, 2007)
Language:
English, Hebrew
HasSubTitles:
Yes
Format:
DCP
US Distributor:
Music Box Films
International Sales:
Global Screen GmbH
Show All