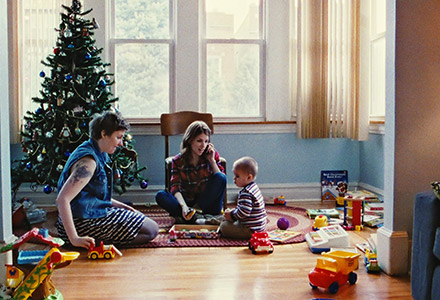 Happy Christmas
USA | 2014 | 78 minutes | Joe Swanberg
There's a season for everything—even growing up. A hip young cast improvises a dicey holiday at home in Chicago, lasering in on relationships between couple Jeff and Kelly, their toddler son, and Jeff's carefree younger sister.
Young couple Jeff and Kelly haven't used their tiki-themed basement very much since the birth of their son two years ago. But when Jeff's younger sister Jenny arrives in town, the party is back on—for better or worse. Director Joe Swanberg is known for working without a script, and here he ably joins the improv team of actors as Jeff. Melanie Lynskey, also in SIFF 2014's They Came Together and who starred in Up in the Air alongside Anna Kendrick, plays Kelly; and Kendrick returns from Swanberg's Drinking Buddies (SIFF 2013), this time not playing a "good girl." Reeling from a breakup, Jenny is welcomed to start over with her brother's family in Chicago if she agrees to help out around the house. But on her first night back, Kelly skips chores to attend a party with her old friend Carson ("Girls" actor-creator Lena Dunham in a wise-cracking turn), blacking out and missing her appointment with the baby (Swanberg's real son, Jude) the next morning. To make matters worse, she finds her babysitting replacement—family friend Kevin (Mark Webber)—quite attractive, and sets forth a seduction. With no filter in conversation and little recognition of inappropriate situations, Jenny's presence makes for a dicey holiday in this little home. Sparks of authentic brilliance come from Swanberg's improvisational techniques, as we wait to see if this could be the season for growing up.
Director Biography
Joe Swanberg is the director of many feature films, including Hannah Takes the Stairs, V/H/S, and Drinking Buddies. His work has premiered at the Sundance, Berlin, and SXSW film festivals. As an actor, he has starred in films, including Adam Wingard's A Horrible Way to Die and You're Next and Ti West's the Sacrament, as well as performing in his own work.
Sponsored by Ingeniux, The Maxwell Hotel
Packaged Films
A young American man (Ben Schwartz) tries to transport his deceased friend's body out of rural Mexico.
Director:
Joe Swanberg
Principal Cast:
Anna Kendrick, Melanie Lynskey, Mark Webber, Lena Dunham, Joe Swanberg
Country:
USA
Year:
2014
Running Time:
78 minutes
Producer:
Joe Swanberg, Peter Gilbert
Screenplay:
Joe Swanberg
Cinematographers:
Ben Richardson
Editors:
Joe Swanberg
Music:
Chris Swanson
Filmography:
24 Exposures (2013); Drinking Buddies (2013); All the Light in the Sky (2012); Marriage Material (2012); V/H/S (2012); The Zone (2011); Caitlin Plays Herself (2011); Art History (2011); Autoerotic (2011); Silver Bullets (2011); Uncle Kent (2011); Alexander the Last (2009); Nights and Weekends (2008); Hannah Takes the Stairs (2007); LOL (2006); Kissing on the Mouth (2005)
Language:
English
Format:
DCP
US Distributor:
Magnolia Pictures
Show All