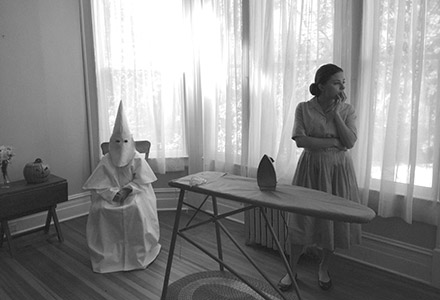 Hate From a Distance
USA | 2014 | 19 minutes | Dan Ireland
Set in the world of racial tensions of 1963, Hate From A Distance tells the story of a young Southern boy, Danny Baker, who is caught in the middle of his father's hatred of an African American family who have dwelt on the peanut farm they've owned for the last one hundred years.
This film is playing as a part of...
In 1930s Texas, schoolteacher and aspiring author Novalyne meets Robert E. Howard, a pulp fiction writer later famed for books including "Conan the Barbarian." The true story of a turbulent courtship and cultural moment resonates in Dan Ireland's classic romance. With film director and SIFF co-founder Dan Ireland in attendance!
When a land disupte arises, all hell breaks loose, resulting in tragic consequences for all concerned. Produced in honor of the 50th Anniversary of the Civil Rights Act (July 2, 1964) abolishing segregation, and directed by Festival Co-Founder Dan Ireland.
Director:
Dan Ireland
Principal Cast:
Brendan Bradley, Kate Krieger, Rashaun Underdue, Asher Angel
Premier Status:
World Premiere
Country:
USA
Year:
2014
Running Time:
19 minutes
Producer:
D.D. Yares, Dan Ireland
Screenplay:
D.D. Yares
Cinematographers:
Christopher Hamilton
Editors:
Troy Takaki
Music:
Harry Gregson-Williams, Tom Howe
Language:
English
Show All