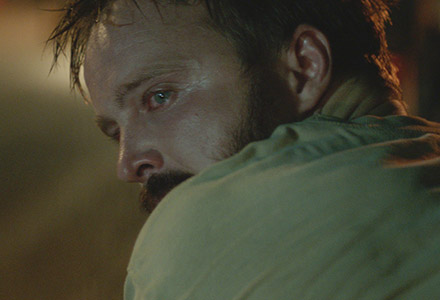 Hellion
USA | 2014 | 98 minutes | Kat Candler
Family ties are tested as a widowed father and his sons deal differently with grief. Explosive and sensational, this Sundance smash features Josh Wiggins in an arresting performance as the elder son in a Southeast Texas family that's falling apart—fast.
Writer-director Kat Candler delivers a searing portrait of a fractured family, led by the stoic Hollis (Aaron Paul of "Breaking Bad") as he attempts to rein in his oldest son, Jacob (Josh Wiggins, in his big-screen debut), following the tragic loss of the young boy's mother. With no parental supervision, Jacob spins deeper and deeper into delinquency, eventually pulling his younger brother, Wes (Deke Gardner), into his criminal orbit. This leads to an intervention by Child Protective Services, who place Wes in the home of his Aunt Pam (Juliette Lewis). This serves as a stark wake-up call for both Hollis and Jacob, who must each begin to tame their personal demons in order to salvage what's left of their once happy family. Based on her eponymous 2012 short film and shot against the industrial backdrop of southeastern Texas refineries, Candler's treatment of a family in transition is a powerful dramatic work that explores the nature of loss and the healing power of forgiveness. With its superb cast and pounding heavy metal soundtrack, Hellion establishes Candler as a bold, unflinching filmmaker. It's a story that is at once intimate and expansive, raw and authentic, and not soon forgotten.
Director Biography
Kat Candler graduated from Florida State University with a degree in Creative Writing and currently lives in Austin, Texas, where she is a film production lecturer at the University of Texas. Her films have screened at many prestigious festivals and she owns Austin-based film production company, Candler Productions.
Sponsored by Ingeniux, Muckleshoot Tribe
Director:
Kat Candler
Principal Cast:
Aaron Paul, Juliette Lewis, Josh Wiggins, Deke Garner, Jonny Mars
Country:
USA
Year:
2014
Running Time:
98 minutes
Producer:
Kelly Williams, Jonathan Duffy
Screenplay:
Kat Candler
Cinematographers:
Brett Pawlak
Editors:
Alan Canant
Music:
Curtis Heath
Website:
Official Film Website
Awards:
SXSW 2014 (Gamechanger Award Special Mention)
Filmography:
Jumping Off Bridges (2006); Cicadas (2000)
Language:
English
Format:
DCP
US Distributor:
Sundance Selects
Show All