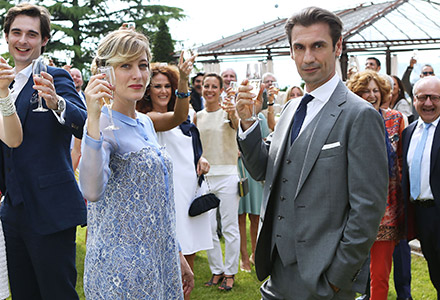 Human Capital
Il Capitale Umano
Italy | 2013 | 110 minutes | Paolo Virzí
With a lens on generational and economic clashes, a road accident entangles the lives of three diverse families in this stylish Italian thriller. Told in three chapters, Human Capital focuses on the self-destructive vanity and the resulting downfall of those who selfishly cling to the top.
After a cyclist is driven off the road, Human Capital returns to the events that set the crime in motion. Returns again and again, in fact, unfolding as three chapters each following a different character from two disparate families involved, their various perspectives expanding our understanding of the circumstances, and of their tragic inevitability. Realtor Dino Ossola (Fabrizio Bentivoglio), nakedly desperate to climb the social ladder, sees the chance to move up a few rungs when his daughter Serena (Matilde Gioli) begins dating the son of hedge-fund manager Giovanni Bernaschi (Fabrizio Gifuni). Dino's avaricious eyes can only see the Bernaschi's monied lifestyle as a gleaming prize to chase by any means; darker shades behind the façade are limned as we follow Giovanni's insecure wife Carla (Valeria Bruni Tedeschi). Serena, meanwhile, is revealed to be indifferent to her boyfriend's wealth, and pursuing interests of her own. After a string of acclaimed comedies distinguished by his intuitive use of actors and bold, perceptive engagement with the political and economic crises wracking Italy, Paolo Virzì displays all his strengths even as he leaps genres, forsaking laughs for a murder mystery as beautiful and coldly foreboding as the winter landscape of its setting.
Director Biography
Paolo Virzi is an Italian director-screenwriter, born in Livorno in 1964. Graduated from the Cinema Experimental Center in Rome, he started by several scenarios for cinema and TV. In 1994, his first feature, La Bella Vita, won the Golden Ciak at the 51st Venice Film Festival. Virzi made since then nine movies including Ovosodo, which was awarded by the special Jury's Grand Prize and the Little Golden Lion at the 1997 Venice Film Festival.
Sponsored by Film Movement, Osteria La Spiga, Seattle-Perugia Sister City Association
Director:
Paolo Virzí
Principal Cast:
Fabrizio Bentivoglio, Valeria Bruni Tedeschi, Valeria Golino, Fabrizio Gifuni, Matilde Gioli
Country:
Italy, France
Year:
2013
Running Time:
110 minutes
Producer:
Fabrizio Donvito, Marco Cohen, Benedetto Habib
Screenplay:
Francesco Bruni, Francesco Piccolo, Paolo Virzí, based on the novel by Stephen Amidon
Cinematographers:
Jérôme Alméras
Editors:
Cecilia Zanuso
Music:
Carlo Virzì
Website:
Official Film Website
Awards:
Tribeca Film Festival 2014 (Best Actress)
Filmography:
Every Blessed Day (2012); The First Beautiful Thing (2010); A Whole Life Ahead (2008); Napoleon and Me (2006); Caterina in the Big City (2003); My Name is Tanino (2002); La Strana Coppia (Doc, 2001); Kisses and Hugs (1999); Hardboiled Egg (1997); August Vacation (1995); Living It Up (1994)
Language:
Italian
HasSubTitles:
Yes
Format:
DCP
US Distributor:
Film Movement
International Sales:
BAC Films
Show All