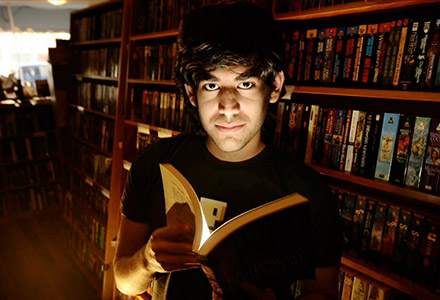 The Internet's Own Boy
USA | 2014 | 105 minutes | Brian Knappenberger
A moving memorial to programming prodigy, information activist, and Reddit founder Aaron Swartz, who championed open sourcing and social justice but ended his life in 2013.
An inspiring story of the life and work of internet prodigy and activist Aaron Swartz, an infuriating story of his persecution by the U.S. government, and a heartbreaking story of his suicide at the age of 26. The Internet's Own Boy is all three and more. Director Brian Knappenberger interviews Swartz's family, friends, girlfriends, and colleagues to trace the key moments in Swartz's career: his emergence on the technology scene at the age of 13; his building of the infrastructure for alternative-copyright platform Creative Commons; his involvement in the development of the web feed format RSS; and his co-founding of Reddit. Ultimately, his commitment to the cause of open sourcing led him to download nearly four million academic articles from the online service JSTOR. Already under FBI surveillance, Swartz was subsequently arrested and prosecuted under the Computer Fraud and Abuse Act, charged with multiple felonies, and faced the possibility of a million-dollar fine and a 50-year prison term. A must see for anyone invested in the future of the freedom of information on the Internet.
Director Biography
Brian Knappenberger has created multiple award-winning documentaries, including We Are Legion: The Story of the Hacktivists about the online hacktivist nongroup Anonymous; Life After War about political tensions in postwar Afghanistan; and A Murder In Kyiv about the death of a Ukrainian journalist, reportedly at the hands of government officials. He has crafted numerous other documentaries for PBS's Frontline/World, the National Geographic Society, Bloomberg News, and the Discovery Channel.
Sponsored by Yelp
Director:
Brian Knappenberger
Country:
USA
Year:
2014
Running Time:
105 minutes
Producer:
Brian Knappenberger
Screenplay:
Brian Knappenberger
Cinematographers:
Lincoln Else, Brian Knappenberger, Scott Sinkler
Editors:
Bryan Storkel, Michelle M.Witten, Jason Decker, Andy Robertson, Brian Knappenberger
Music:
John Dragonetti
Website:
Official Film Website
Filmography:
We Are Legion: The Story of the Hacktivists (Doc, 2012); Life After War (Doc, 2003); Into the Body (2001)
Language:
English
Format:
DCP
US Distributor:
Film Buff
Show All