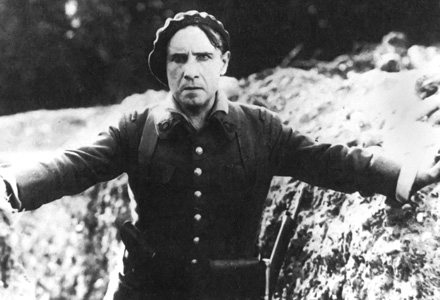 J'accuse
France | 1919 | 165 minutes | Abel Gance
Considered the first great pacifist film, this 1919 French silent concerns a tragic love triangle between a soldier, his wife, and her lover set against the horrors of World War I. This fully restored digital print is courtesy of the Netherlands Film Museum.
Following the horrific events of WWI, French filmmaker Abel Gance created one of the great works of pacifist art. At its core, J'Accuse tells of a small village love triangle: Edith is unhappily married to much-older François, and is drawn into an affair with the local poet, Jean Diaz. When war breaks out with Germany, both François and Jean enlist while Edith is sent to live with François' parents in Lorraine. The two men find themselves serving together in the same frontline unit, developing a friendship despite their romantic rivalry. However, as the war progresses, Jean is discharged due to ill health and returns home where he once again meets Edith—now the mother of a half-German daughter conceived by rape. But when François comes home on leave, Edith and Jean conspire to hide the child from him, leading to drastic consequences. Gance served briefly in the army early in the war, and returned to active service near the conflict's conclusion to shoot scenes on real battlefields. J'Accuse culminates in one of the most haunting and powerful climactic sequences in cinema history.
Director Biography
Abel Grance was born in Paris, France in 1889, and left school to join the theater at Théâtre Royal du Parc in Brussels, where he began writing his first scripts. In 1911 he established a production company called Le Film Français, and directed his first film, La Digue. During WWI, Grance enlisted himself in the Service Cinématographique in order to get real battle shots for J'Accuse, a film that would confront the horrors of the war. Gance went on to direct many more films, and is remembered for his sweeping romanticism and his innovative and experimental cinema techniques.
Sponsored by TV5MONDE, Alliance Française de Seattle, French American Cultural Society, French Immersion School of Washington, The French American School of Puget Sound
Director:
Abel Gance
Principal Cast:
Séverin Mars, Romuald Joubé, Maryse Dauvray, Maxime Desjardins, Angèle Guys
Country:
France
Year:
1919
Running Time:
165 minutes
Producer:
Charles Pathé
Screenplay:
Abel Gance
Cinematographers:
Marc Bujard, Léonce-Henri Burel, Maurice Forster
Editors:
Andrée Danis, Abel Gance
Music:
Robert Israel
Filmography:
Bonaparte et la Révolution (1972); Cyrano et d'Artagnan (1964); The Battle of Austerlitz (1960); Magirama (1956); The Tower of Nesle (1954); Le Capitaine Fracasse (1943); The Life and Loves of Beethoven (1936); Vénus Aveugle (1941); Four Flights to Love (1940); Louise (1939); Napoleon (1927); The Wheel (1922); Tenth Symphony (1918); Sorrowful Mother (1917)
Language:
French
HasSubTitles:
Yes
Format:
DCP
Show All