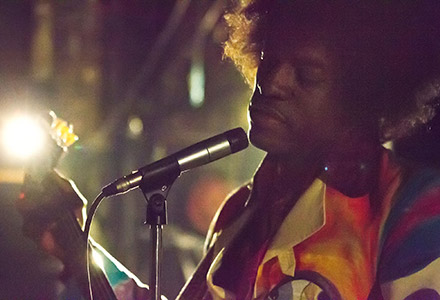 Jimi: All Is By My Side - Opening Night Gala
May 15 | Opening Night at McCaw Hall
United Kingdom | 2013 | 118 minutes | John Ridley
It's Jimi Hendrix before he was Jimi Hendrix. Outkast's André Benjamin gives a magnetic, nuanced performance in this biopic about a rock legend on the verge of making it big. Director John Ridley and actress Hayley Atwell scheduled to attend.

---
OPENING NIGHT TICKETS
$50 | $45 Members price | Buy Now

Ticket price includes admission to the film and after-party.
PREMIUM OPENING NIGHT TICKETS
$100 | $90 Members price | Buy Now
Ticket price includes preferred admission to the film and open bar at the after-party.
RED CARPET EXPERIENCE
$250 | Buy Now

Ticket price includes a walk on the Red Carpet, a private reception, reserved seats for the film, an exclusive after-party in the Red Carpet Lounge, valet parking, a premium gift bag, and open bar. Learn more here.
---
Featuring an insightful script from John Ridley (Academy Award®-winning screenwriter of 12 Years a Slave), Jimi: All Is By My Side looks at the early, momentous years in the life of the legendary guitarist.
It's 1966, and James Hendrix is still an unknown backup guitarist in New York. Linda Keith (Imogen Poots, Filth)-girlfriend to the Rolling Stones' Keith Richards-happens to catch a set he's playing and, mesmerized by his skills, brings Hendrix into her inner circle.
Now in England, Hendrix hopes that London will be the gateway to success in America. Before long, however, he finds himself caught between Linda's protective grasp and the charms of a new admirer, Kathy Etchingham (Hayley Atwell, Captain America). With Kathy by his side, Jimi, as he is now known, navigates the city's music scene and begins making his mark in the world of rock 'n' roll.
Ridley, who also produced and directed this passion project, has crafted a daring, wholly original interpretation of an artist's origins, perfectly blending his story with archival footage of the era. It's the wildly charismatic Benjamin, though, that acts as the beating heart of Jimi: All Is By My Side, brilliantly distilling the essence of the man before anyone knew who he was.
Director:
John Ridley
Principal Cast:
André Benjamin, Hayley Atwell, Imogen Poots, Ruth Negga, Adrian Lester
Country:
United Kingdom, Ireland
Year:
2013
Running Time:
118 minutes
Producer:
Sean McKittrick, Jeff Culotta, Danny Bramson, Brandon Freeman, Anthony Burns, Tristen Orpen Lynch, Nigel Thomas
Screenplay:
John Ridley
Cinematographers:
Tim Fleming
Editors:
Hank Corwin, Chris Gill
Music:
Danny Bramson, Waddy Wachtel
Website:
Official Film Website
Filmography:
Cold Around the Heart (1997)
Language:
English
Format:
DCP
Show All