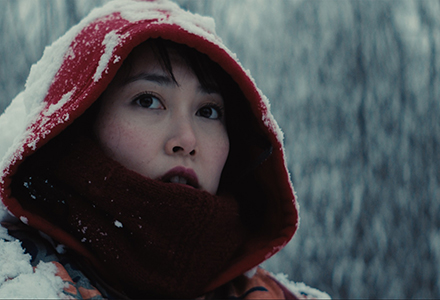 Kumiko, the Treasure Hunter
USA | 2014 | 104 minutes | David Zellner
When a lonely Japanese woman believes she knows the location of a buried treasure after watching and re-watching Fargo on an old VHS tape, she leaves her cluttered and mundane life in Tokyo to travel to Minnesota and find it.
As any Coen Brothers fan can attest, the ending of the 1996 masterpiece Fargo is devilishly enigmatic, with the stolen money lost forever in the endless snows of the Northern Plains. To some, it's a sardonic ending; to others, it's the start of an adventure. One lonely woman on the other side of the world becomes convinced that the story is real and that the buried loot is still there for the taking. Based on an urban legend about the Coen Brothers film, Kumiko, The Treasure Hunter, follows the obsessive quest of Kumiko (Rinko Kikuchi), a shy Tokyo office worker who tires of running demeaning errands for her boss and enduring her mother's nags about finding a man. To escape, she watches a worn copy of Fargo on a VHS tape every night and begins to lose her grip on reality. With little more than a crude map and a pilfered office credit card, Kumiko sets off for America in a deluded haze. Along the way, she meets her share of well-meaning, misguided Midwesterners, including one who seeks a translator at a Chinese restaurant. The writer/director team of brothers David and Nathan Zellner are no Coen stand-ins, however—they stay true to their own gently absurdist vision throughout. With a mixture of pathos, eccentricity, and deadpan humor, Kumiko is a tribute to the strange power of film in a new film that's equally charming and haunting.
Director Biography
Two of the most distinct voices and idiosyncratic personalities in independent cinema today, Austin-based filmmakers David and Nathan Zellner have written, produced, directed and appeared in numerous award-winning shorts and feature films over the past decade. The Zellners have been a force on the festival circuit dating back to the 2005 short film Flotsam/Jetsam, their first film to premiere at Sundance. Their feature films include Goliath (2008) and Kid-Thing (2012).
Sponsored by Ingeniux, First Sight Productions
Director:
David Zellner
Principal Cast:
Rinko Kikuchi, Nobuyuki Katsube, Shirley Venard, David Zellner, Nathan Zellner
Country:
USA, Japan
Year:
2014
Running Time:
104 minutes
Producer:
Nathan Zellner, Chris Ohlson, Cameron Lamb, Andrew Banks, Jim Burke
Screenplay:
David Zellner, Nathan Zellner
Cinematographers:
Sean Porter
Editors:
Melba Jodorowsky
Music:
The Octopus Project
Website:
Official Film Website
Awards:
Sundance Film Festival 2014 (Special Jury Prize for Music Score)
Filmography:
Kid-Thing (2012); Goliath (2008);
Language:
English, Japanese
HasSubTitles:
Yes
Format:
DCP
International Sales:
KMI
Show All