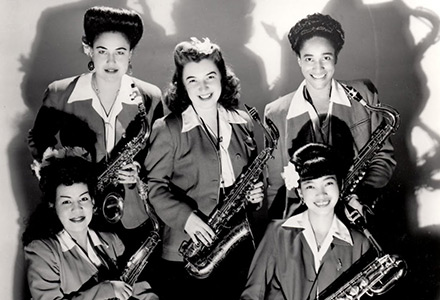 Lady Be Good; Instrumental Women In Jazz
USA | 2014 | 80 minutes | Kay D. Ray
"How does it feel to be a woman in a man's world?" Through archival footage and interviews old (Artie Shaw) and new (Quincy Jones), musician-composer Patrice Rushen narrates the oft-untold history of American women jazz instrumentalists.
Schedule
June 1, 2014
SIFF Cinema Uptown Festival  
5:30 PM
Date has passed

Director Kay Ray, co-producer Cathy Wadley scheduled to attend

June 2, 2014
xHarvard Exit  
4:00 PM
Date has passed

Director Kay Ray, co-producer Cathy Wadley scheduled to attend

Show All
The International Sweethearts of Rhythm. The Syncoettes. Carol Kaye. The substantial contributions of woman to Jazz music have been largely ignored by history, but their significant role is one that can no longer be denied. Lady Be Good reveals the lost stories of female jazz musicians from the early 1920s to the 1970s. Narrated by musician-composer Patrice Rushen, the film charts the influence of female players from the struggles and successes of early innovators (Sweet Emma Barrett, Lil Hardin-Armstrong), through the rise of the all-woman big bands (Ina Ray Hutton & Her Melodears, the Hollywood Redheads), to the female musicians that were instrumental players (Dorothy Donegan, Mary Osborne) and arrangers (Mary Lou Williams, Melba Liston) for more famous male band leaders, including Benny Goodman and Quincy Jones. Unfolding over nine parts, director Kay D. Ray's debut film weaves provocative and often humorous interviews with female musicians, big band leaders, jazz authors, and historians throughout a film stuffed end-to-end with archival photos, recordings, and performance footage to create a documentary that restores an essential part of our musical history.
Director Biography
Returning to Seattle from film and video work in Vancouver, B. C. and Los Angeles, producer and director Kay D. Ray worked with Microsoft Studios for four years and was the senior film producer for Experience Music Project. There she developed and created over 85 films and directed numerous interviews. Kay is in the distribution phase of her feature documentary film Lady Be Good; Instrumental Women in Jazz (2014). She is also co-producer of a kiosk with Frause Visual for the Washington State Historical Society Women's Vote, Women's Voices.
Sponsored by EMP Museum, KEXP 90.3 FM, Seattle Composers Alliance
Director:
Kay D. Ray
Principal Cast:
Narrated by: Patrice Rushen
Premier Status:
World Premiere
Country:
USA
Year:
2014
Running Time:
80 minutes
Producer:
Kay D. Ray
Screenplay:
Kay D. Ray
Cinematographers:
Erich Volkstorf, Bruce Hutson, Mark Hubatsek
Editors:
Catherine Wadley, Jill Friedberg
Website:
Official Film Website
Filmography:
Debut Feature Film
Language:
English
Format:
HD-CAM
Show All