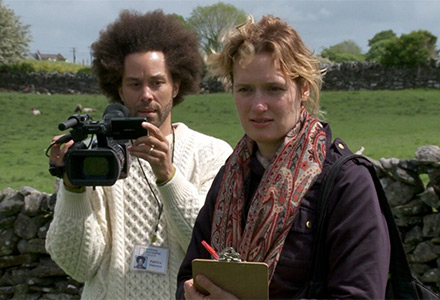 Lambing Season
USA | 2013 | 15 minutes | Jeannie Donohoe
An American woman travels to the Irish countryside in search of her long-lost father, only to find her path full of sheep, secrets, and shenanigans.
This film is playing as a part of...
Twelve-year-old Lila doesn't know her father's name, but that doesn't stop her from escaping her boarding school to look for him. Her kind teacher, Jimena, assists in this revelatory road movie.
Director:
Jeannie Donohoe
Principal Cast:
Breeda Wool, Seamus Moran, Jamund Washington, Padraig Murray, John Lydon
Country:
USA, Ireland
Year:
2013
Running Time:
15 minutes
Producer:
Juliet Lashinsky-Revone, Jessica Caldwell
Screenplay:
Jeannie Donohoe
Cinematographers:
Zoë White
Editors:
Gautam Chopra
Music:
James Sheridan, Martin O'Connor
Website:
Official Film Website
Awards:
Hamptons (Golden Starfish Student Film Award); Woods Hole Festival (Best Film, Best Actress); Mill Valley Festival (Audience Award); Rhodes Island Festival (First Place LGBT movie); Catalina Festival (Avalon Student Film Award); Columbia Festival (Audience Choice Award); Anchorage International Film Festival (Best Narrative Short)
Filmography:
Shorts; Bienvenue 920110, Public (2010), Balls (2009)
Language:
English
Show All