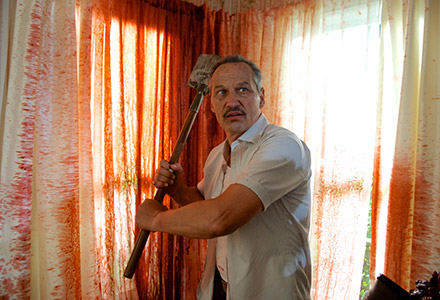 Late Phases
USA | 2014 | 95 minutes | Adrian Garcia Bogliano
Adrián García Bogliano (SIFF 2013 chiller Here Comes the Devil) directs this wicked werewolf drama, pitting a retirement community against a pack of lethal lycanthropes.
Ambrose McKinley isn't much of a people person. A blind Vietnam vet, he'd rather be left alone with his seeing-eye dog than engage in chitchat with the neighbors. However, when his yuppie son, Will, prompts him to move to Crescent Bay, a seemingly idyllic retirement community, Ambrose's life erupts into monstrous turmoil. One night, a bloodthirsty creature smashes through the patio door of his house, kills his dog while nearly killing Ambrose, and then murders the little old lady next door. While recovering, Ambrose learns that the community has been the focus of brutal "dog attacks" that have killed several residents. But Ambrose surmises that they're werewolves, not feral dogs, responsible for the killings. With a month to go before the next full moon, Ambrose scours the community for possible lycanthropic suspects—including the local pastor and his flock of elderly church ladies—all the while preparing for the inevitable hair-raising showdown. The first English language film from Argentinean thrill-master Adrián García Bogliano, Late Phases is a ghastly enjoyable creature feature.
Director Biography
A landmark in Argentinean independent filmmaking, Adrián García Bogliano films have won numerous awards at horror and fantasy film festivals around the world. His latest film before Late Phases, Here Comes the Devil, premiered at the 2012 Toronto Film Festival and has garnered acclaim from critics and international audiences.
Sponsored by Scarecrow Video
Director:
Adrian Garcia Bogliano
Principal Cast:
Nick Damici, Ethan Embry, Tom Noonan, Lance Guest, Erin Cummings
Country:
USA
Year:
2014
Running Time:
95 minutes
Producer:
Zak Zeman, Greg Newman, Brent Kunkle, Larry Fessenden
Screenplay:
Eric Stolze
Cinematographers:
Ernesto Herrera
Editors:
Aaron Crozier
Music:
Wojciech Golczewski
Filmography:
Here Comes the Devil (2012); Penumbra (2011); Cold Sweat (2010); The Accursed (2010); Watch 'Em Die (2009); I'll Never Die Alone (2008); 36 Steps (2006); Scream the Night (2005); Riddlebox (2004); Rooms for Tourists (2004)
Language:
English
Format:
DCP
US Distributor:
MPI Media
Show All