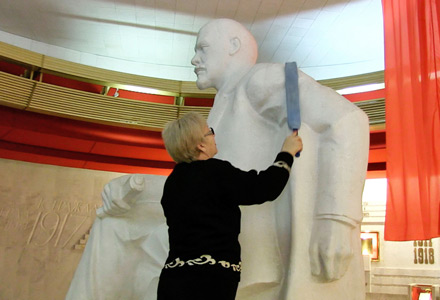 Leninland
ЛЕНИНЛЭНД
Russia | 2013 | 52 minutes | Askold Kurov
Obsession meets civic duty at the Museum of Lenin, built in 1985 in the revolutionary's hometown of Gorky, where history teacher Natalya and scientific researcher Evgenia honor the controversial leader—even as fewer and fewer visitors come to do so.
Even twenty years after the fall of the USSR, many citizens of the former-Soviet Union still disagree about how to remember Vladimir Lenin, the communist revolutionary, politician, and cultural theorist that served as the leader of the Russian Federation until his death in 1924. Since the Soviet Union dissolved in 1991, there's been cultural disagreement on whether or not Lenin should be recognized as a positive contributor to the wellbeing of Eastern European civilization, or whether his legacy is now irrelevant and the country should move on. Leninland is the "last" museum devoted to Lenin, built on the site where the renowned leader died. Now it's the site of forlorn memories and of the museum's employees' desire for the Russian citizens to revisit the positive impact Lenin had on his constituency. Struggling to convince patrons to not focus solely on Lenin's controversial concepts and suggestions about communism, the museum's employees encourage their countrymen to remember the politician for his forward-thinking philosophies and for his dedication to the betterment of his nation.
Director Biography
Born 1974 in Uzbekistan, Kurov has lived in Russia since 1991. In 2010, he graduated from Moscow's Marina Razbezkina Film School.
Packaged Films
An elderly couple in the traffic. The wife chitchats, warns, controls - a policeman, a GPS and a commentator, all at once. The husband growls or strikes out. This is how their world works. But life is a constant replanning...
Director:
Askold Kurov
Premier Status:
North American Premiere
Country:
Russia, Germany, Netherlands
Year:
2013
Running Time:
52 minutes
Producer:
Vlad Ketkovich
Screenplay:
Askold Kurov
Cinematographers:
Alexey Strelov, Askold Kurov
Editors:
Kirill Sakharnov
Website:
Official Film Website
Filmography:
Winter, Go Away! (2012); Chilla (2010);
Language:
Russian
HasSubTitles:
Yes
Format:
HD-CAM
International Sales:
Deckert Distribution
Show All