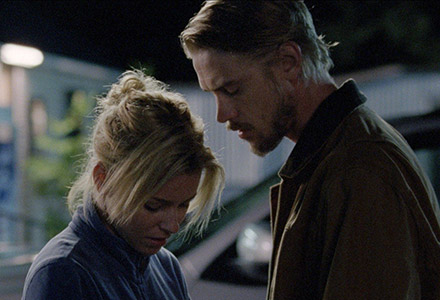 Little Accidents
USA | 2014 | 105 minutes | Sara Colangelo
Expanded from the SIFF 2010 award-winning short, the citizens of a West Virginian town sift through the emotional wreckage and deeply buried secrets in the aftermath of a terrible coal mining disaster. Featuring Elizabeth Banks, Chloë Sevigny, Josh Lucas, Boyd Holbrook, and Jacob Lofland.
Coal miner Amos Jenkins (Boyd Holbrook) is lucky to be alive, but he feels more cursed than blessed. As the sole survivor of a devastating accident that took the lives of 10 of his fellow miners, the injured Amos is pressured by his union boss to testify against the mining company for damages. At the same time, his co-workers—including his father, racked with black-lung disease—warn him to keep his mouth shut so they can keep their jobs and feed their families. Meanwhile, Amos' middle-class boss, Bill (Josh Lucas), fears he will become an easy scapegoat for the mine's lax safety protocols. The anguish for Bill and his wife, Diana (Elizabeth Banks), increase exponentially when their teenage son goes missing without a trace. His schoolmate, Owen (a terrific Jacob Lofland), knows what happened to the missing teen, but also holds his tongue for fear of the consequences. The secrets and betrayals start to pile up, leading to a dramatic conclusion as these intertwined characters are forced to wrestle with the truth. Shot on location in the blue-collar mining town of Beckley, W. Va., Little Accidents captures the grit and pride of hardscrabble Appalachia as it copes with loss. This poised first feature by writer/director Sara Colangelo shows how the ripples of tragedy radiate in all directions, forever altering the lives of those underground as much as the ones above.
Director Biography
Sara Colangelo, a graduate of Brown University, earned a Fulbright Fellowship to study documentary filmmaking at the University of Bologna, in Italy. Her short films, such as the documentary Halal Vivero in 2006 and the Italian-language drama Un Attimo di Respiro in 2007, have been screened in numerous festivals worldwide and earned many award nominations. Her debut feature film Little Accidents is based on a short film of the same name, which won a SIFF Grand Jury Prize in 2010.
Sponsored by Ingeniux, Seattle Film Institute
Director:
Sara Colangelo
Principal Cast:
Elizabeth Banks, Chloë Sevigny, Josh Lucas, Boyd Holbrook, Jacob Lofland
Country:
USA
Year:
2014
Running Time:
105 minutes
Producer:
Jason Michael Berman, Anne Carey, Thomas B. Fore, Summer Shelton
Screenplay:
Sara Colangelo
Cinematographers:
Rachel Morrison
Editors:
Suzy Elmiger
Music:
Marcelo Zarvos
Filmography:
Debut Feature Film
Language:
English
Format:
HDCAM
US Distributor:
Amplify • Variance Films
Show All