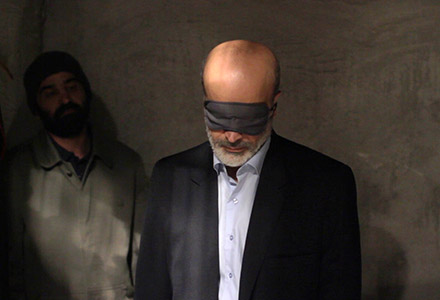 Manuscripts Don't Burn
Dast-neveshtehaa nemisoozand
Iran | 2013 | 127 minutes | Mohammad Rasoulof
In this gripping political thriller, Mohammad Rasoulof defies a 20-year ban on filmmaking to tell the true story of two government assassins tasked with eliminating 21 dissident writers and journalists.
To bring us this gripping political thriller, director Mohammad Rasoulof defied a 20-year ban on making films, imposed on him after his 2010 conviction on charges that included "making propaganda" against the ruling system. Shot in Iran without permission (the names of cast and crew are redacted from the credits for fear of state retribution), the film is an explicit attack on the evils of state corruption, violence, and censorship in modern-day Iran. The title borrows a much-quoted line from author Mikhail Bulgakov's celebrated anti-Soviet satire "The Master and Margarita," and the plot is based on the true story of a failed 1995 government plot to eliminate 21 dissident writers and journalists. Now, a former dissident-turned-state intelligence minister wants to eliminate all traces of this inconvenient truth from memory. Told from the point of view of the two low-level enforcers tasked with carrying out his plan, Manuscripts Don't Burn is a brave and deeply personal film from a filmmaker with an important story to tell, willing to take great personal risks to tell it.
Director Biography
Born in Chiraz, Iran, Mohammad Rasoulof studied sociology and then film editing in Tehran. After several directorial efforts, Rasoulof was arrested in 2010 on set with filmmaker Jafar Panahi, co-directing with him, and was sentenced to prison and banned from filmmaking. His film Goodbye, which premiered at the 2011 Cannes Film Festival in the section Un Certain Regard and won the directing prize, was shot partly in secret in the winter of 2010. None of his films has been released in Iran.
Sponsored by KING5
Director:
Mohammad Rasoulof
Country:
Iran
Year:
2013
Running Time:
127 minutes
Producer:
Mohammad Rasoulof
Screenplay:
Mohammad Rasoulof
Website:
Official Film Website
Awards:
Cannes Film Festival 2013 (Un Certain Regard FIPRESCI Prize), Hamburg Film Festival 2013 (Critics Award for Political Film)
Filmography:
Good Bye (2011); The White Meadows (2009); Head Win (Doc, 2008); Iron Island (2005); The Twilight (2002)
Language:
Farsi
HasSubTitles:
Yes
Format:
DCP
US Distributor:
Kino Lorber
International Sales:
Elle Driver
Show All