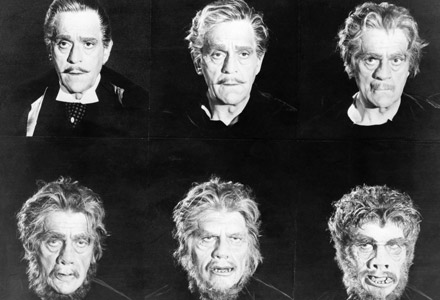 A Masque of Madness
Austria | 2013 | 80 minutes | Norbert Pfaffenbichler
Frankenstein's monster interacts with other Boris Karloff creations in this kaleidoscopic tribute to the screen legend's magnificent voice and 50 years in the business.
Though Boris Karloff is most famous for playing Frankenstein's monster, his career started in 1919 as a supporting player in silent films and spanned five decades, into talkies and even television. For his "Notes on Film" series, Austrian director Norbert Pfaffenbichler compresses more than 170 different films into a tribute to the magnificent voice, strong chin, and many masks of Boris Karloff. Along with the famous monster, Karloff played mad scientists and a host of other characters, and here they all interact in both humorous and dramatic ways. Karloff is the only actor we see, but through playful editing his characters exist together in imaginary spaces where they spy on each other, goad each other, and even hit each other. Throughout his career, the movies he starred in were often very similar; when shown back-to-back, we get a history lesson in Hollywood genre filmmaking. We often see what seems like the same movie shot over the course of many decades, all featuring one of cinema's greats. This is 50 years of madness condensed into 80 glorious minutes.
Director Biography
Norbert Pfaffenbichler is an Austrian filmmaker, artist, and curator who studied theater arts and journalism at the University of Vienna and media design at the University of Applied Arts Vienna. Pfaffenbichler is known for his experimental short films, and has curated several programs for the Austrian Film Museum and the Austrian film distribution company sixpackfilm.
Director:
Norbert Pfaffenbichler
Principal Cast:
Boris Karloff
Premier Status:
US Premiere
Country:
Austria
Year:
2013
Running Time:
80 minutes
Producer:
Norbert Pfaffenbichler
Editors:
Norbert Pfaffenbichler
Music:
Johann Sebastian Bach
Website:
Official Film Website
Filmography:
Debut Feature Film
Language:
English
Format:
HDCAM
Show All