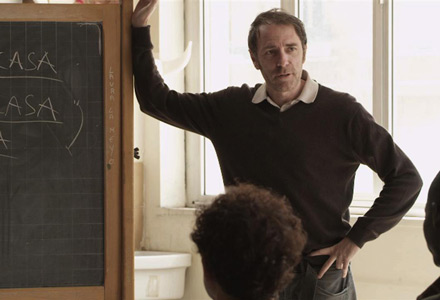 La Mia Classe
Italy | 2013 | 93 minutes | Daniele Gaglianone
In order to attain work and residence permits in their adopted country, a group of Rome-based immigrants take an Italian language class and encounter shared grief, social integration, and humanity.
Saturday June 7 screening on STANDBY – Advance tickets not available
A teacher, Attanasio (celebrated Italian actor Valerio Mastandrea), walks in slow motion through a darkened, deserted school at the start of Daniele Gaglianone's latest feature, La Mia Classe. But this is no typical schoolroom drama. Attanasio teaches Italian to a group of immigrants looking for better job prospects, but the first few minutes are taken up by Gaglianone's film crew making sure the microphones are adjusted properly and discussing ways to film scenes from different angles. These meta-film sequences juxtapose with the experiences of the real-life immigrants, who play themselves. As Attanasio guides the class through practical role-playing exercises to build their language skills, the students open up about their funny, poignant, and heartrending tales of assimilation. Some seek new opportunities in the European Union, others have escaped the horrors of war, but all were forced to leave loved ones behind. When the residence permits begin to run out and deportation is threatened, both students and film crews struggle with the sudden absence of the classmates/actors. By revealing the artificiality of his own filmmaking process, Gaglianone shows how no one is left untouched by the iniquities of the Italian immigration process. This clever film-within-a-film blurs the line between fact and fiction and blends narrative and documentary styles, adding a heightened sense of immediacy to the stories of ordinary people trying to rebuild their shattered lives.
Director Biography
Known for his documentaries as well as his narrative features, Daniel Gaglianone is an Italian-born writer and director. He is closely involved with the National Film Archive of the Resistance in Turin, Italy, and teaches workshops regularly at the OffiCine Mattòli, a film school in Macerata. In 2011, Gaglianone was awarded the Sergio Leone Prize at the Annecy Film Festival for his career.
Sponsored by Dante Alighieri Society of Washington, Istituto Italiano di Cultura San Francisco, Osteria La Spiga.
Director:
Daniele Gaglianone
Principal Cast:
Valerio Mastandrea, Bassirou Ballde, Mamon Bhuiyan, Gregorio Cabral, Jessica Canahuire Laura
Premier Status:
North American Premiere
Country:
Italy
Year:
2013
Running Time:
93 minutes
Producer:
Gianluca Arcopinto
Screenplay:
Gino Clemente, Daniele Gaglianone, Claudia Russo
Cinematographers:
Gherardo Gossi
Editors:
Enrico Giovannone
Filmography:
Rust (2011); Pietro (2010); Rata Nece Biti! (Doc, 2008); Changing Destiny (2004); Our Years (2001)
Language:
Italian
HasSubTitles:
Yes
Format:
DCP
Show All