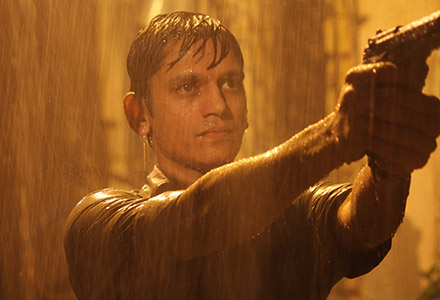 Monsoon Shootout
India | 2013 | 88 minutes | Amit Kumar
In this moody and engaging Indian crime-thriller, rookie cop Adi finally gets a chance to prove himself when he corners an infamous hitman. Armed and on target, Adi must decide whether or not to shoot.
"Does the end justify the means?" This is a phrase that is repeated throughout Monsoon Shootout as a careful warning and constant inner mantra for rookie cop Adi. Regardless of his own morals, any move he makes could potentially threaten the lives around him. In this moody Indian crime thriller, Adi finally gets a chance to prove himself on the Mumbai police force, but soon discovers he's in over his head when he and his case-hardened partner Khan get caught up in a cat-and-mouse game with the slum community's most feared gangsters. The fated moment arrives on a rainy Mumbai night when, after a foot race through an alley, Adi corners the infamous assassin Shavi, known as "The Axe Man" for his daunting choice of weapon. Armed and on target, Adi must decide whether to shoot or not to shoot, with the possible consequences shown as various alternate endings. Director Amit Kumar paints this portrait of existential struggle in all the dark shadows and stylized neon lights of a modern noir while effectively juxtaposing the seedy nightlife with lighter, more realistic shots of day-to-day life in the community. Monsoon Shootout provides a multi-layered storyline that comes off as suspenseful and compelling rather than convoluted, leaving it up to the audience to answer for themselves if Adi's end really does justify his means.
Director Biography
Amit Kumar graduated in film direction from the Indian National Film School. His student film Judgment Day, a single shot short film about a custodial death and its shocking cover-up, brought him a grant for Artist Residency from the Chicago Artists International Programme. His short film The Bypass, produced under UK Film Council and Film Four's Cinema Extreme series, premiered at the Edinburgh International Film Festival and won the Kodak BAFTA showcase as well as second prize at the Turner Classic Movies Shorts Awards at the London Film Festival. Amit previously was associate director to the BAFTA-winning UK director Asif Kapadia on The Warrior, and to the Oscar winning German director, Florian Gallenberger, on his debut feature, Shadows of Time.
Sponsored by Delta Air Lines, Snoqualmie Tribe
Director:
Amit Kumar
Principal Cast:
Vijay Verma, Nawazuddin Siddiqui, Tannishtha Chatterjee, Neeraj Kabi, Geetanjali Thapa
Country:
India, United Kingdom, Netherlands
Year:
2013
Running Time:
88 minutes
Producer:
Trevor Ingman, Guneet Monga, Martijn De Grunt
Screenplay:
Amit Kumar
Cinematographers:
Rajeev Ravi
Editors:
Ewa Lind, Atanu Mukherjee
Music:
Gingger Shankar
Website:
Official Film Website
Awards:
Hawaii International Film Festival 2013 (Netpac Award)
Filmography:
Debut Feature Film
Language:
Hindi
HasSubTitles:
Yes
Format:
DCP
International Sales:
Fortissimo Films
Show All