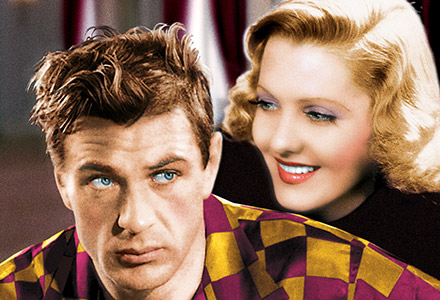 Mr. Deeds Goes to Town
USA | 1936 | 115 minutes | Frank Capra
Capra's screwball classic features Gary Cooper as a small-town greeting card poet who inherits a fortune, and falls prey to a scheming crop of opportunistic characters. A brand-new restoration from the original negative.
"That guy is either the dumbest, stupidest, most imbecilic idiot in the world, or else he's the grandest thing alive. I can't make him out." Meet Longfellow Deeds (Gary Cooper) of Mandrake Falls—greeting card poet, tuba enthusiast, and recent inheritor of his late uncle's $20 million fortune. Now one of the richest men in America, Deeds grudgingly relocates to his uncle's Fifth Avenue mansion in New York City and quickly becomes the talk of the town. Initially marked as an easy, naïve, "pixilated" target for those who wish to embezzle him of his funds, Deeds swiftly outwits his duplicitous lawyers, relatives, and creditors, revealing himself as a level-headed and kind-hearted businessman. Enter Louise "Babe" Bennett (Jean Arthur), a scrappy New York Mail reporter with a story idea any editor would kill for—go undercover as damsel-in-distress Mary Dawson, earn Deeds' trust, and report back the inner workings of the reluctant millionaire. Cooper, never more enchanting, charmed his way into his first of five Oscar® nominations, while Frank Capra earned a second Best Director statuette for his even-handed work. Relevant in this age of corruption and increasing income inequality, Mr. Deeds Goes to Town mixes politics with laughs, heart, and gusto, as inspiring as it is hilarious. 

This screening is held in honor of longtime SIFF supporter and Seattle-based film writer Jeff Shannon, who passed away in December of 2013. A fiercely independent voice, his writing touched many, and his enthusiasm for movies was both infectious and an inspiration.
Director Biography
Sicilian born Frank Capra graduated from the California Institute of Technology in 1918. Capra became a well-established director when It Happened One Night (1934) was the first film to win all five major Academy Awards® (Best Picture, Director, Actor, Actress, and Screenplay). Capra holds three Academy Awards® for Best Director and is well known for It's a Wonderful Life (1946) and You Can't Take It With You (1938).
Sponsored by KVOS
Director:
Frank Capra
Principal Cast:
Gary Cooper, Jean Arthur, George Bancroft, Douglass Dumbrille, Lionel Stander
Country:
USA
Year:
1936
Running Time:
115 minutes
Producer:
Frank Capra
Screenplay:
Robert Riskin, based on a work by Clarence Budington Kelland
Cinematographers:
Joseph Walker
Editors:
Gene Havlick
Music:
Howard Jackson
Awards:
Academy Awards 1937 (Best Director), National Board of Review 1936 (Best Picture), New York Film Critics Circle 1936 (Best Picture), Venice Film Festival 1936 (Special Recommendation)
Filmography:
Pocketful of Micracles (1961); A Hole in the Head (1959); Here Comes the Groom (1951); It's a Wonderful Life (1946); The Battle of Russia (1943); Prelude to War (1942); Meet John Doe (1941); Mr. Smith Goes to Washington (1939); You Can't Take it With You (1938); Lost Horizon (1937); It Happened One Night (1934); Lady for a Day (1933)
Language:
English
Format:
DCP
Show All