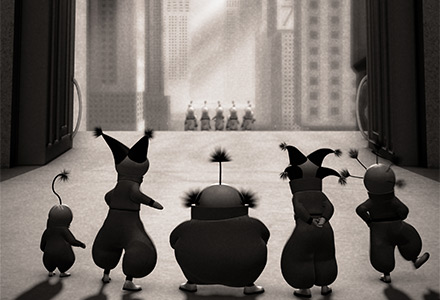 The Numberlys
USA | 2013 | 12 minutes | William Joyce, Brandon Oldenburg
Friends 1, 2, 3, 4 and 5 live in a world where there is no alphabet - only numbers. One day, they decide they want something different and set out to create each letter of the alphabet with color, creativity...and jellybeans.
This film is playing as a part of...
Bring the whole family to the cinema for a playful set of animated, live action, and documentary short films curated for the young and the young at heart.
Director:
William Joyce, Brandon Oldenburg
Principal Cast:
Joe Bluhm, Calvin O'Neal Jr., Tyler Schatz
Country:
USA
Year:
2013
Running Time:
12 minutes
Producer:
Trish Farnsworth-Smith, Lampton Enochs
Screenplay:
William Joyce
Editors:
Calvin O'Neal Jr.
Music:
John Hunter
Website:
moonbotstudios.com
Language:
English
Format:
DCP
Show All