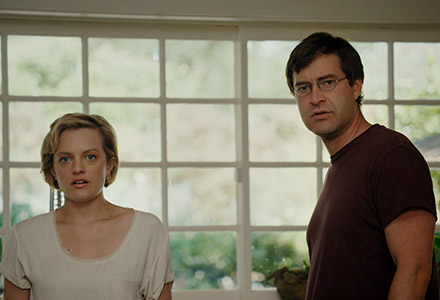 The One I Love - Encore Screening
June 8 | Closing Night Gala | Party at MOHAI follows the screening.
USA | 2014 | 91 minutes | Charlie McDowell
On the recommendation of their therapist, a married couple spends a weekend away at a vacation home, where their romantic rekindling takes a turn for the surreal. This sophisticated blend of relationship drama and "Twilight Zone" twists features outstanding performances from Mark Duplass (Safety Not Guaranteed) and Elisabeth Moss ("Mad Men").
Schedule
June 8, 2014
Cinerama  
6:30 PM
Date has passed

Director Charlie McDowell, actor Mark Duplass, Elisabeth Moss, producer Mel Eslyn to attend

Cinerama  
9:30 PM
Date has passed

Encore Screening - Film Only

Show All
ENCORE SCREENING: Sunday, June 8 | 9:30PM | Cinerama
No guests in attendance.
---
Closing Night Gala
Sunday, June 8 | 6:30PM
Film venue: Cinerama
Party: MOHAI
$100 Premium | $90 Premium Members - STANDBY - no advance tickets available.
Ticket price includes preferred seating at the screening and open bar at the post-film party at MOHAI. The evening's bites are provided by Manhattan, Snoqualmie Ice Cream, and Dillettante, and sips by Dark Horse Wines, Barefoot, New Belgium Brewing, Absolut, Avion Tequila, Don Q Rum, and Jameson Whiskey. Availability is limited.

$50 | $45 Members - STANDBY - no advance tickets available.
Ticket price includes admission to the film and after-party.
---
This sophisticated blend of romantic drama and science fiction follows married couple Ethan and Sophie (Mark Duplass and Elisabeth Moss), who are having trouble rekindling the sparks that began their relationship. Their therapist (Ted Danson) suggests a weekend getaway at a secluded vacation estate, where the couple spends their first night enjoying a quiet dinner, some great conversation, and even a little weed. As Sophie takes a moment to explore the grounds, she wanders into the charming guesthouse by the pool and discovers Ethan waiting for her. Their spark rekindled, they make love, and all seems back on track. That is, until she returns to the main house to find Ethan passed out on the couch with no memory of what happened. So begins a fantastical, original, and completely unpredictable story of devotion, deception, and wish fulfillment reminiscent of "Who's Afraid of Virginia Woolf?" set in "The Twilight Zone." Using a bare-bones script from first time screenwriter Justin Lader, director Charlie McDowell and Seattle-based producer Mel Eslyn staged extensive, collaborative rehearsals with Duplass and Moss, leading to a pair of superb performances filled with depth, humor, and humanity. The result is a series of fantastical twists and turns that feel utterly real, but we dare not spoil a single moment in attempting to describe them. The One I Love simply must be seen to be believed.
Director Biography
Charlie McDowell graduated from the American Film Institute's directing program, and while there wrote and directed several short films. McDowell received a book deal in 2008 to publish his entertaining and popular Twitter feed, entitled "Dear Girls Above Me." The One I Love is McDowell's debut feature film.
Sponsored by Cinerama, MOHAI, Boeing, Kaspar's Catering, New Belgium Brewery, Brotherton
Music provided by Bruce Pavitt.
Director:
Charlie McDowell
Principal Cast:
Elisabeth Moss, Mark Duplass, Ted Danson
Country:
USA
Year:
2014
Running Time:
91 minutes
Producer:
Mel Eslyn
Screenplay:
Justin Lader
Cinematographers:
Doug Emmett
Editors:
Jennifer Lilly
Music:
Danny Bensi, Saunder Jurriaans
Filmography:
Debut Feature Film
Language:
English
Format:
DCP
US Distributor:
Radius-TWC
Show All