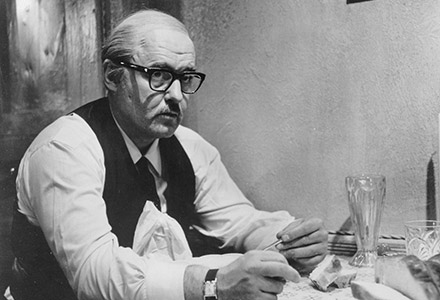 The Pawnbroker
USA | 1964 | 116 minutes | Sidney Lumet
Sidney Lumet's 1964 drama, about a Holocaust survivor-turned-pawnbroker in East Harlem who is haunted by the wickedness of the world, boasts a groundbreaking Quincy Jones score and Rod Steiger's star-making lead performance. Shown in a newly struck 50th anniversary print. With introduction by Quincy Jones!
Sol Nazerman (Rod Steiger, in a career-defining performance) is a survivor—not just of the mean streets of Spanish Harlem, where he runs a pawnbroker business, but of the Third Reich. Formerly a university professor in Germany, Nazerman witnessed the deaths of his children and the rape and murder of his wife at the hands of the Nazis. Haunted by horrifying flashbacks, he has hardened his heart, focusing only on extracting money from his desperate customers, whom he considers "rejects" and "scum." Nazerman has accepted that his pawnshop is really a front for a local criminal organization, but when he learns that the money comes partially from a prostitution ring, he makes a stand in honor of his late wife. This 1964 film adaptation of Edward Lewis Wallant's novel is as emotionally harrowing now, 50 years later, as it was shocking for its day. Directed by Sidney Lumet and featuring a haunting jazz score by Quincy Jones, The Pawnbroker is a groundbreaking classic, hailed as the first American film to depict the Holocaust from a survivor's point of view. It was also the first major film to defy the Hays Code and show nudity on screen. In 2008, The Pawnbroker was selected for preservation in the U.S. National Film Registry as being "culturally, historically, or aesthetically significant." Don't miss this rare chance to view it on the big screen.
Director Biography
Sidney Lumet was one of Hollywood's most prolific directors, with more than 50 features to his credit, 14 of which earned Academy Award® nominations. Many of his best films, such as 12 Angry Men (1957), The Pawnbroker (1964), Fail-Safe (1964), Dog Day Afternoon (1975), Network (1976), Prince of the City (1981), and The Verdict (1982), featured strong male leads and dealt with controversial social issues. He concluded his career with the critically acclaimed Before the Devil Knows You're Dead in 2007, shortly after receiving the Academy Award® for Lifetime Achievement in 2005.
Sponsored by Scarecrow Video
---
You may also enjoy...
An Evening with Quincy Jones


June 4 | 7:30PM | SIFF Cinema Uptown

Join acclaimed artist Quincy Jones for a special screening of his film Keep On Keepin' On, featuring the jazz-legend Clark Terry and blind piano prodigy Justin Kauflin. Mr. Jones will be honored with the Festival's Lifetime Achievement Award before the screening, and will take part in a conversation following the film.
$150 | Sold out

Ticket price includes a 5:00 PM pre-film reception at the extraordinary Chihuly Boathouse, catered by City Catering and featuring beverages by Chateau Ste. Michelle and New Belgium Brewing, and reserved seats at the screening. Availability is limited.
$35 | $30 Members | STANDBY - no advance tickets available
Ticket price includes screening only.
Learn more about the event here.
---
You may also enjoy...
An Evening with the Justin Kauflin Trio

June 5 | 7:00PM | The Triple Door
Enhance the experience of the film Keep On Keepin' On by spending the evening with one of its star subjects: the exciting blind jazz pianist Justin Kauflin, with his Trio composed of drummer Billy Williams, and bassist Christopher Smith. With an introduction by Quincy Jones.
$25 | Buy Now
---
Director:
Sidney Lumet
Principal Cast:
Rod Steiger, Geraldine Fitzgerald, Brock Peters, Jaime Sánchez, Thelma Oliver
Country:
USA
Year:
1964
Running Time:
116 minutes
Producer:
Philip Langner, Roger Lewis
Screenplay:
Morton Fine, David Friedkin; based on a novel by Edward Lewis Wallant
Cinematographers:
Boris Kaufman
Editors:
Ralph Rosenblum
Music:
Quincy Jones
Awards:
Berlin Film Festival 1964 (Best Actor), British Academy Film Awards 1964 (Best Foreign Actor), Academy Awards 1966 (Nominated Best Actor)
Filmography:
Before the Devil Knows You're Dead (2007); Running on Empty (1988); The Morning After (1986); The Verdict (1982); Prince of the City (1981); The Wiz (1978); Equus (1977); Network (1976); Dog Day Afternoon (1975); Murder on the Orient Express (1974); Serpico (1973); Long Day's Journey into Night (1962); 12 Angry Men (1957)
Language:
English
Format:
DCP
US Distributor:
Paramount Pictures
Show All