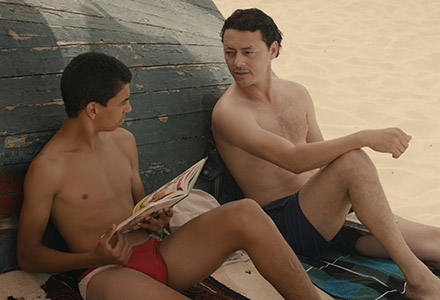 Salvation Army
L'armée du salut
Morocco | 2013 | 82 minutes | Abdellah Taïa
Inspired by the director's own experiences, the film recounts the journey of a gay Moroccan teenager who uses his sexuality to advance his position in, and eventually escape, the society that shuns him. A brave, provocative film that tackles taboo issues to offer a new vision of the queer Arab experience.
In a daring and heartfelt film that inspires empathy and understanding, Paris-based Moroccan writer Abdellah Taïa has adapted his autobiographical novel about growing up gay in a culture disinclined to acceptance (Taïa's coming out in a French interview in 2007 caused controversy back home). Gorgeously made-with cinematography by Agnès Godard, Claire Denis' regular cameraperson—Salvation Army is nothing short of a milestone. Divided into two parts, the film first gives us a snapshot of 15-year-old Abdellah (Saïd Mrini), a willful working-class teenager exploring the boundaries of his sexuality in sometimes furtive, sometimes open, and sometimes transgressive ways. Part two transports us 10 years into the future when Abdellah (now played by Karim Ait M'Hand) negotiates a new life as a scholarship student in Geneva, where being a gay Moroccan in a cold European city presents a different set of obstacles. Taïa's direction is candid and emotionally honest throughout, an outstanding achievement in a film with many.
Director Biography
Already an established writer, Taïa frst film Salvation Army will be playing at SIFF. Taïa grew up in Morrocco, facing much homophobia as a teenager he left Morocco to study French literature in Geneva then the Sorbonne in Paris Salvation Army won the European Jury Award at Angers European First Film Festival and was nomitated for the International Jury Award at the São Paulo International Film Festival.
Sponsored by The Academy of Motion Picture Arts & Sciences, Delta Air Lines
Director:
Abdellah Taïa
Principal Cast:
Saïd Mrini, Karim Ait M'Hand, Amine Ennaji, Malika El Hamaoui, Frédéric Landenberg
Country:
Morocco, France
Year:
2013
Running Time:
82 minutes
Producer:
Hugues Charbonneau, Marie Ange Luciani
Screenplay:
Abdellah Taïa
Cinematographers:
Agnès Godard
Editors:
Françoise Tourmen
Website:
Official Film Website
Awards:
Angers European Film Festival 2014 (Jury Award, Best French Film)
Filmography:
Debut Feature Film
HasSubTitles:
Yes
Format:
DCP
International Sales:
Ramonda Films
Show All