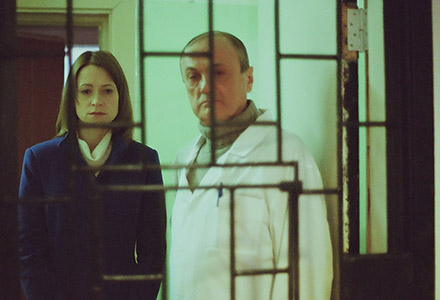 Shame
Styd
Russia | 2013 | 90 minutes | Yusup Razykov
The desolation and chilling beauty of northwest Russia is masterfully played against the longings of a community of women who await their husbands' return from submarine missions at sea.
Amidst the fjords of the Kola Peninsula in northwest Russia, there's a navy settlement base where the families of submariners and frontier guards live. Most of the men are out on a mission while the naval wives on land carry on with their daily lives. A young woman, Lena (Maria Semenova), arrives at the settlement having recently married one of the officers. She is introspective, formal, out of place in the frozen landscapes, and a bit reckless. The rundown base is about to close down and the locals, who are always worried about their men at sea, are worried about their future as well. Shame is loosely based on the sinking of the nuclear-powered submarine "Kursk" to the bottom of the Barents Sea in August 2000 with all 118 sailors on board. Although focused on one woman, it's not just a personal story. The tragedy of the dead submariners touched the whole world. Veteran Uzbek director Yusup Razykov (Orator, SIFF 2000) has made an effective and understated drama centered on the lives of women who wait by the sea, in the chilling beauty of a nation that still bears scars of this tragedy.
Director Biography
Born in the former Soviet Union (now Uzbekistan) in 1957, Yusup Razykov is a writer and director. As a director, Razykov deals with contemporary issues, best shown in The Dance of Men (2002) and Migrant Worker (2009).
Director:
Yusup Razykov
Principal Cast:
Maria Semenova, Elena Korobeynikova, Helga Filipova, Seseg Hapsasova
Premier Status:
North American Premiere
Country:
Russia
Year:
2013
Running Time:
90 minutes
Producer:
Vladimir Malyshev, Andrey Malyshev
Screenplay:
Ekaterina Mavromatis, Yusup Razykov
Cinematographers:
Yuri Mikhailyshin
Editors:
Denis Luzanov
Music:
Alexey Artishevsky
Awards:
Karlovy Vary Film Festival 2013 (FIPRESCI Prize), Trieste Film Festival 2014 (Best Film)
Filmography:
Migrant Worker (2009); Beglyanki (2007); Erkak (2005); The Dance of Men (2002); Women's Paradise (2000); Orator (2000)
Language:
Russian
HasSubTitles:
Yes
Format:
DCP
Show All