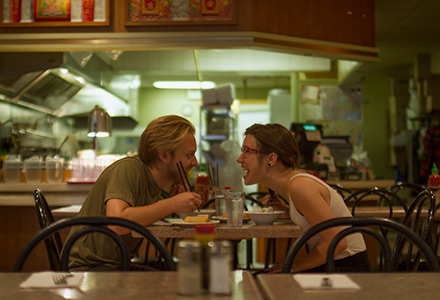 ShortsFest Closing Night
2014 | 87 minutes
SIFF's annual celebration of the short form finishes off with this wonderfully varied program examining the breezy joy and tremendous complexity found in the best short films.
Sponsored by The Mac Store, Classical KING FM 98.1
Packaged Films
Tech savvy and internet-dependent Avery reevaluates her online lifestyle and tendencies after her boyfriend proposes to her via a meme.
Love. Grief. Shock. Denial.—Portrait of a break up in five minutes.
A lonely street thug yearns for a better life after he bumps into a girl from his past and remembers the boy he used to be.
Faced with her own mortality, Crystal is forced to confront how she really feels about herself and her relationships with those close to her.


All of Joe's conversations are pre-recorded, and Alison can't let him get away with that.
From her home in the Bombay slums to the Oscar Red Carpet, meet Rubina Ali Qureshi again, five years after her appearance in Slumdog Millionaire.
Year:
2014
Running Time:
87 minutes