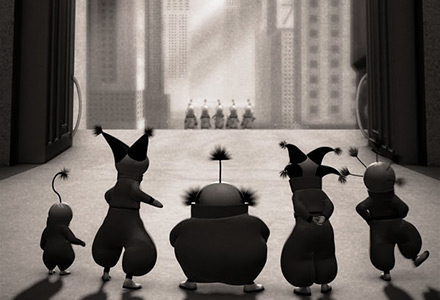 ShortsFest Opening Night
2014 | 86 minutes
It is our great pleasure to open our ShortsFest weekend with this collection of superb short films from around the world that exemplify the art of storytelling in all its variety. Comedy and drama, live action and animation-these films prove that short is truly sweet.
Sponsored by The Mac Store, Classical KING FM 98.1
Packaged Films
The lessons learned by a quiet Eastern Washington teen reverberate into his adult life in this coming-of-age father-son tale.
Dawn is a quiet young teenager who longs for something or someone to free her from her sheltered life.
You've never heard of Jonathan Hoefler or Tobias Frere-Jones but you've seen their work - they make the fonts used by everyone from the New York Times to the President of the United States.
Marilyn Myller seeks to create the perfect sculpture—It will be epic. It will be tear jerkingly profound. It will be perfect.
A woman wakes up to a pouring rain. A rain that will follow her through the rest of the day.
Friends 1, 2, 3, 4 and 5 live in a world where there is no alphabet - only numbers. One day, they decide they want something different and set out to create each letter of the alphabet with color, creativity...and jellybeans.
During a small amount of time, a shy operator (Sally Hawkins) at a crisis hotline center forms a powerful and emotional bond with a depressed older man (Jim Broadbent).
Year:
2014
Running Time:
86 minutes