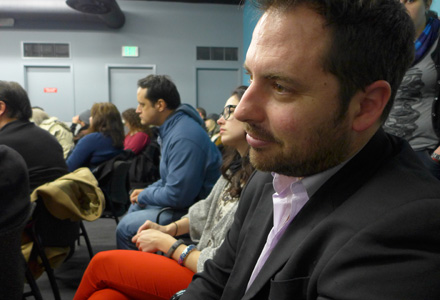 Catalyst Panel 2: Made for the Web - Transmedia in Washington
90 minutes
Get an insider's perspective on the fast-growing world of digital content produced exclusively for the web from the content creators themselves. Covering everything from audience engagement to production to distribution, this panel will both inspire and inform people ready to take the plunge into this brave new world.
Panelists:
Douglas Horn (Divergence)
Darlene Sellers (Chop Socky Boom)
Amy Lillard (Washington Filmworks)
Matt Vancil (Zombie Orpheus)
Vanessa Driveness (Standard Action)
Forest Gibson (Job Hunters)
Moderator:
Tony Becerra (Sabotage and Dialogue)

SIFF Catalyst Panels | 9:00am - 5:00pm | SIFF Film Center
Tickets:$5 per Panel / $15 for all - Free for SIFF Members SIFF
Catalyst offers a full day of public panels & dynamic, thought-provoking discussions around the dual themes of Co-creation and Community in the new digital space.
The Schedule

9:00 AM

Catalyst Panel 1: Kickass Kickstarters - Recipes for Success


10:30 AM

Catalyst Panel 2: Made for the Web - Transmedia in Washington



12:15 PM

Catalyst Panel 3: The Future of Distribution



1:30 PM

Catalyst Panel 4: Filmmaker Panel



3:00 PM

Catalyst Panel 5: Keynote by Franklin Leonard of The Black List



4:00 PM

Catalyst Happy Hour at Tin Lizzie