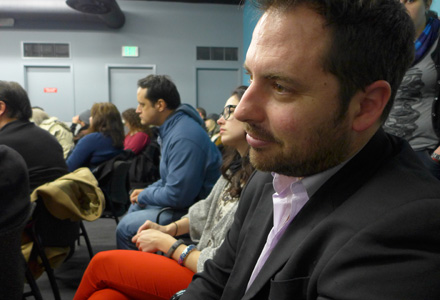 Catalyst Panel 3: The Future of Distribution
60 minutes
What does distribution look like for today's independent filmmaker? The theatrical release that used to be the standard measure of indie success is no longer a given, forcing filmmakers, producers and distributors to each reassess how best to approach the new digital frontier offered by both online and mobile platforms.
You'll hear from seasoned distribution vets that will share their experiences with you and answer questions about the realities of the new distribution landscape for independent filmmakers.
Panelists:
Vernon Mortensen (Rogue Arts)
Scilla Andreen (IndieFlix)
Steven Beckman (Film Buff)
Moderator: John Comerford


SIFF Catalyst Panels | 9:00am - 5:00pm | SIFF Film Center
Tickets:$5 per Panel / $15 for all - Free for SIFF Members SIFF
Catalyst offers a full day of public panels & dynamic, thought-provoking discussions around the dual themes of Co-creation and Community in the new digital space.
The Schedule

9:00 AM

Catalyst Panel 1: Kickass Kickstarters - Recipes for Success

10:30 AM

Catalyst Panel 2: Made for the Web - Transmedia in Washington


12:15 PM

Catalyst Panel 3: The Future of Distribution


1:30 PM

Catalyst Panel 4: Filmmaker Panel


3:00 PM

Catalyst Panel 5: Keynote by Franklin Leonard of The Black List


4:00 PM

Catalyst Happy Hour at Tin Lizzie