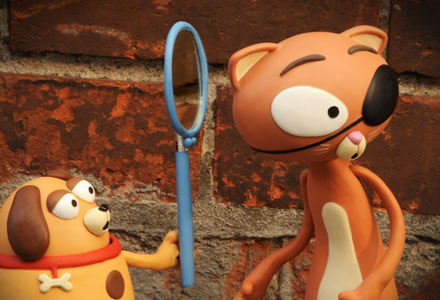 The Family Picture Show 2013
2013 | 87 minutes
Gather your family around the flickering glow of the big screen for this magical set of animation, live action, and documentary short films the whole family will enjoy.
Packaged Films
A sweeping, suburban epic that celebrates the power of imagination and the bond between generations.
Hannah's mom is always busy so when the night comes Hannah talks to the moon, until one night when the moon doesn't appear.
The Hedgehogs and their animal friends learn to make money and use it to remodel the city.
The antics of a variety of animated creatures are hypnotically delightful.
A pair of rejected toys struggle to find a place in the store display.
When one underwater critter has trouble catching dinner he turns everyone's world upside down after he learns some tricks from a frog.
The music of The Pop Ups gives these animals a fabulous song on their morning train.
When a boy puppet is separated from the girl puppet he loves he will go to any length to reunite with her.
Amidst the rain in a singing city, two umbrellas—one blue, one not—fall eternally in love in The Blue Umbrella.
A modern day fairytale about a young girl who discovers the key to creating a new world.
Everyone is off to the sea and the Mole travels as well to find out what is so exciting.
Two dragon-loving kids find their own fairy tale romance.
An Indian boy makes his younger sister the red umbrella she has always wanted.
A kid's first adventure starts when mom's not looking.
Year:
2013
Running Time:
87 minutes