Films A to Z
Browse
102 |
Thursday, May 30
A Tribute to the Music of Muscle Shoals with Patterson and David Hood
Triple Door: Doors 6:00 p.m., 7:00 p.m. (all-ages)
India | 2012 | 94 minutes | Samit Kakkad
In this kinetic mash-up of the Step Up films and the musical Moulin Rouge, nine Marathi Indian boys living in an oppressive juvenile home challenge their circumstances by banding together to enter a prominent dance competition. Explosive, innovative, and crowd-pleasing fun.
Iraq | 2012 | 79 minutes | Bijan Zmanpira, Nahid Ghobadi
In this charming, satirical road trip movie an Iranian diplomat travels Kurdistan in response to a letter threatening the collective suicide of 111 young women if they are not provided with eligible suitors. Visually stunning with dreamlike reveries and absurd Beckett-esque humor.


Denmark | 2012 | 115 minutes | Joshua Oppenheimer, Christine Cynn, Anonymous
Powerful and surreal. For over forty years, the leaders of Indonesian paramilitary death squads have considered their acts of genocide heroic. This flabbergasting documentary follows these notorious murderers as they brazenly re-enact their heinous crimes with B-movie panache.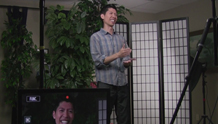 240 minutes |
10am-2:00pm (Film Center Classroom)
$10 - General Audience, $5 - SIFF Members
Acting for the Camera gives students the opportunity to explore acting in four basic camera shots (wide, over-the-shoulder, medium, close-up).
South Africa | 2012 | 89 minutes | Bryan Little
A survey of the extraordinary street dance styles across South Africa, director Bryan Little's award-winning documentary drills deeper into the philosophy of the dancer's self-expression and, especially, the souls of two extraordinary young performers. Ages 13+


Mexico | 2012 | 103 minutes | Michel Franco
After his wife's death in a car accident, Roberto moves to Mexico City with his teenage daughter, Alejandra. While father and daughter are inherently close, their repressed grief and lack of communication threatens to unhinge them when she becomes the victim of brutal bullying at school.


France | 2012 | 122 minutes | Yousry Nasrallah
Based on the true story of the horsemen hired by President Mubarak to charge the crowds in Tahrir Square, this vibrant drama captures the personal and political implications of the revolution across Egyptian society.
USA | 2013 | 87 minutes | Lana Wilson, Martha Shane
In the wake of the assassination of Dr. Tiller, this documentary examines the personal and ethical imperatives that drive the four remaining physicians who continue to perform late-term abortions despite dangerous legal and personal harassment in this thought-provoking and sometimes troubling documentary.


France | 2012 | 74 minutes | Judith Lit
In this affectionate documentary shot over three years, a French farming community in the Périgord region struggles to uphold centuries of tradition in the face of modernity and a new Europe.